It is easy to
enable the free positioning of the desktop icons on the Windows desktop

under Windows 11!

You don't necessarily need a desktop icon positioning tool, Windows sometimes rearranges your desktop icons, for example when you restart Windows, or when you download a new application, and a new desktop icon is added. This is because of a smart feature that is enabled by default. 





1.) Deactivating the intelligent desktop icon align function!

1. Please press the Windows key combination [Win-Logo] + [D] to see the Windows desktop.

2. By right-clicking on a free space on the Windows "desktop" a selection menu appears,

3. In the selection menu simply click on "View"

4. Then deactivate Arrange symbols automatically

You can also: Align the desktop symbols with the grid or not. Or even hide the desktop icons completely .

See also: ►   ... automatic hide and / or show the desktop icons / symbols.




(Image-1) Free positioning of the desktop icons under Windows 11!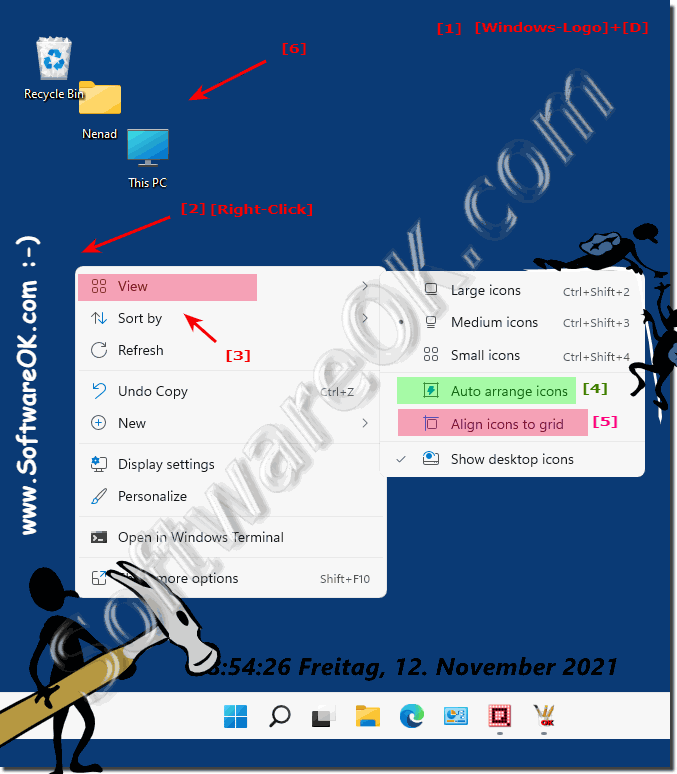 2.) Other possible causes and what should be considered!

This method described above should prevent Windows from rearranging your desktop icons for the most part at random. However, there are some special cases on Windows 11 in which your desktop icons need to be rearranged even if you have disabled the Settings - Auto - arrange icons. For example, if you change your screen resolution, your icons can sometimes be scattered.

Tools like Desktop-OK can help to create a backup of the desktop icons at regular time intervals!









FAQ 190: Updated on: 16 September 2023 09:37