If the font is too big or too small on Windows 11, don't panic, you can find the solution to the problem here!    




 

Content:



1.) Correct the font size on Windows 11!
Incorrectly recognized hardware can lead to automatic conversion of the DPI values. One can indirectly change the font weight in programs, and this affects all programs on their Microsoft Windows operating system.



There are applications where the settings change the font so that the fonts in programs are no longer correct or are even too big or small! 






(Image-1) Help the font on Windows 11 is too big or small!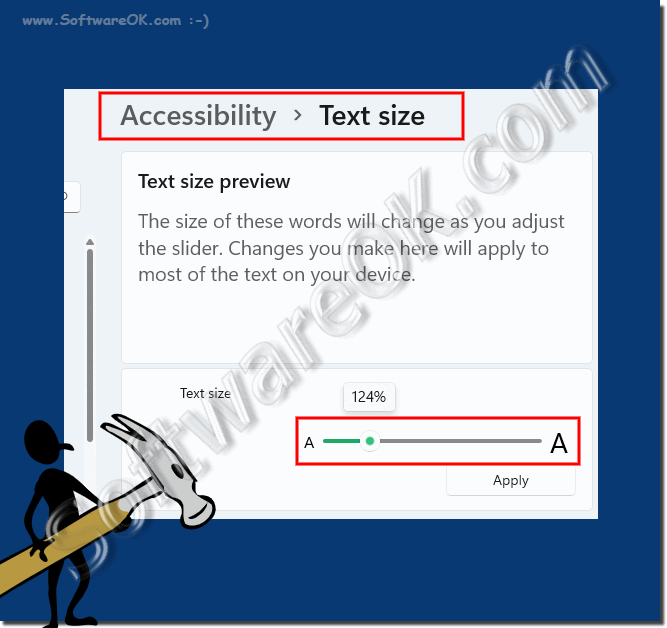 2.) Why does such a change in writing occur!
It can be due to incorrectly recognized and new hardware, compatibility problems, ..., or just a stupid coincidence. In the worst case, you have to start Windows 11 in safe mode to make the settings!  






3.) More tips on writing, fonts and format!

As a rule, this typeface phenomenon is very rare, which fortunately many users never have to deal with. There are many fonts in Windows 11, the system itself uses the Segoe UI. This is a very pleasant font introduced with Windows 10. Here are other helpful tips that might be more or less helpful. Just click through and get informed.





If the font has changed unexpectedly in Windows 11, there are other possible reasons and steps you can take to fix the font issue: Check

your settings:
Make sure the fonts and text sizes in your Windows 11 settings are correct. Settings are configured correctly. Go to Settings > Customization > Fonts and make sure the desired font and size is selected.

Windows Updates:
Sometimes font issues can be caused by outdated or missing Windows updates. Make sure your system is up to date by checking for and installing updates.
►►  Where can I see all installed Windows 11 updates?

Driver Updates:
Update your graphics drivers as graphics driver issues can affect font display.
►►  Driver update via the Windows 10 / 11 device manager?

Font files:
Check whether the fonts on your system have been corrupted or deleted. You can do this through the Font Manager in Windows Settings.
►►  Uninstall (remove, delete) fonts in Windows 10/11?

Scaling Settings:
You can check the scaling settings in Settings > Customization > Display to ensure the font size meets your expectations.

Third Party Software:
Temporarily uninstall third-party software that may affect the appearance of fonts in Windows 11.

Restore point:
If the font changes occurred recently, you can try resetting Windows to an earlier point in time when the font was normal.
►►  Can you create a restore point under Windows 11?




If none of these measures resolve the issue and the font continues to change unexpectedly and disruptively in Windows 11, it may be advisable to contact Microsoft Technical Support for further assistance or additional diagnostics.







FAQ 244: Updated on: 11 October 2023 13:14