Before you do a new installation of Windows 11 you can manage network passwords and back them up and restore them to Win 11!

Saving credentials enables Windows 11, 10, ... to automatically log on to websites and other computers. The credentials are saved on your computer and are used for Windows itself and other programs, APPS, applications, web browsers, ... You can securely transfer the credentials saved in to other Windows computers!


1.) Manage, backup and restore network passwords! 


1. Start as always, the system Control Panel (eg Windows + R + control )

2. Press the F3 key and type "network passwords"

3. Choose what you want: back up or restore   

(... see Image-1 Point 1 to 7)



(Image-1) Windows 11: Manage network passwords, restore backup!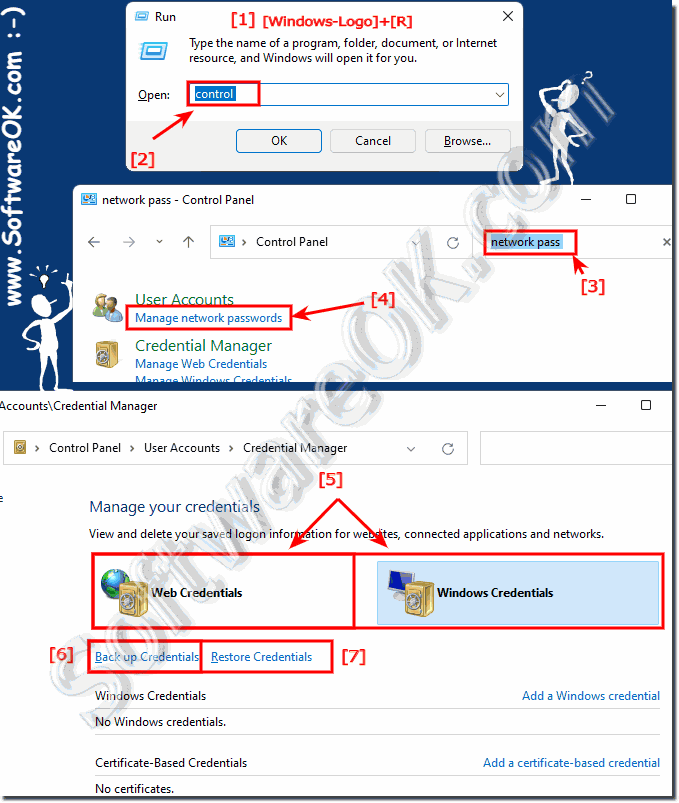 2.) What are network passwords, is that the Windows 11 login?

No, these are FTP, Remote Desktop and other network passwords, the Windows login is not saved here.





3.) What should I watch out for with network passwords?
Everyone knows the rules for passwords, the longer and more unpredictable the better, here it really depends on the length, the longer the more secure and even better if the password or parts of the password are not in "Spelling Dictionary" or anywhere else.
  
As with Windows 10, ... and MS Server, so also with the new MS Windows 11 ... it makes sense that you save user names and passwords, access data and other passwords on removable media, USB stick and not on the internal hard drive of the Back up Windows PC. Useful if the Windows computer no longer works during the restoration or if the restoration is to be carried out on a different PC.





FAQ 85: Updated on: 31 October 2021 09:26