The use of 32-bit programs, which are often referred as x32 / x86, is also possible under MS Windows 11 x64!




Windows 11 does not exist as a 32-bit operating system

, but 32-bit programs, applications, ...

can be run under Windows 11

in the same way as before. These are also recognized as 32 bits. Many older tools are no longer maintained and are only available as 32-bit. In some cases, 32-bit programs work very stably and better under x64 than on 32-bit operating systems, as these  are executed protected in ► 

WOW 64

. In an emergency and in case of problems, possibly ►

run in the compatibility mode

 or

run the  program compatibility troubleshooting

!


Content:



1.) Recognize 32-bit programs x32, x86 under Windows 11!
Even under Windows 11, the Task Manager can be used to display a list of the programs running on the computer. In the task manager you can see the 32-bit / x86 programs on MS Windows, they are marked with a "32-bit" ! Or under "Details" , column "Architecture" x86!


(... see Image-1 Point 1 to 5)




(Image-1) The 32-bit programs under Windows 11 x64!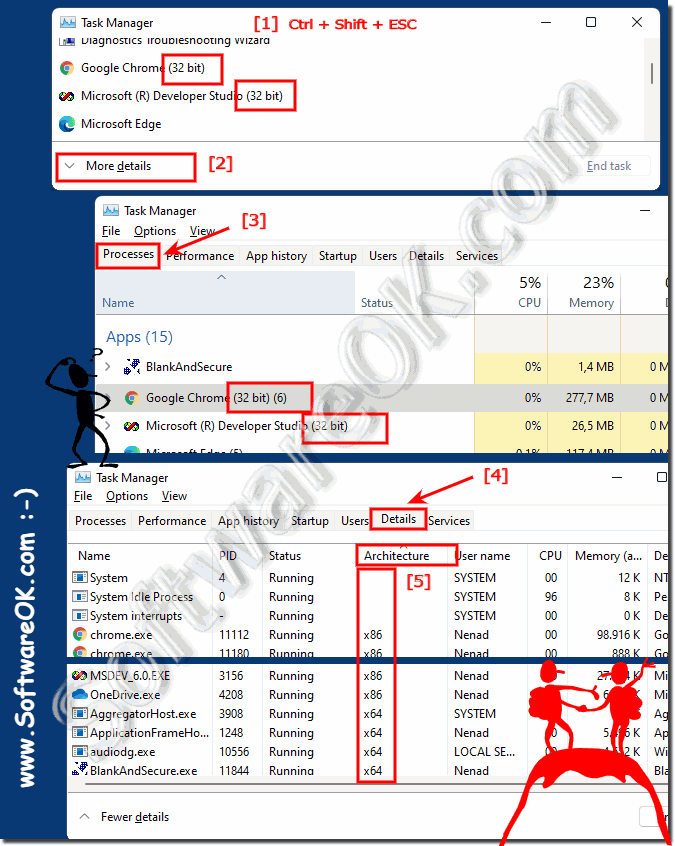 2.) Installierte 32 Bit Programme unter Windows 11!
Only the installed x64 applications are saved in the standard
"Programs"
folder, such as my program
Q-Dir_x64
. So! It is used for a better overview and order on the computer, but has no effect on the programs themselves. An x64 program remains an x64 program, in which folder it is located does not change the program. The same applies to the x86 or x32 programs.
3.) Similar and further information / tips about x32 / 32 bit and programs!
Info:
With 32-bit Windows 11, 10, ... software, programs, APPs there is a limit of 2 GB of RAM per process, with 64-bit MS Windows programs you don't have the problem! Basically, the manufacturer informs you whether there is an advantage over the 32-bit application, and you can then bypass this limit on the computer with a 64-bit program!
FAQ 88: Updated on: 26 August 2023 07:03