It's
easy to change

Windows 7 Product Key,

it's not an unsolvable problem, both in MS Windows 7 and 8.1!




1.) Method 1: Manually Change the Windows 7 Product Key-s! 
1. Right-click on 
My Computer or "Computer"
 and select Properties via the context menu. 
2. Wait a second for the Windows activation details to be displayed. 
3. Click on the 
"Change Product Key"
link. 
4. Enter the new product key and click Next to activate Windows 7 with the new product key 
(Image-1) Change Windows 7 Product Key?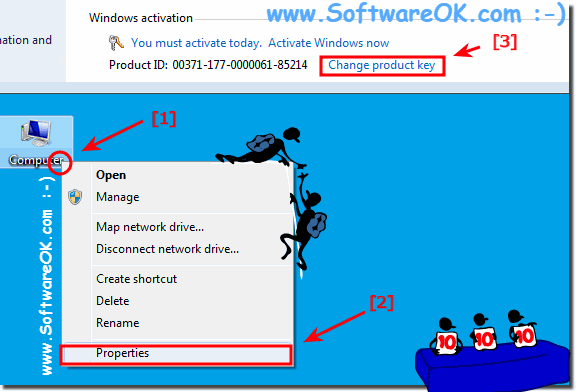 2.) Method 2: At the command prompt (cmd.exe) in admin mode! 
Step 1 of 3
Step 2 of 3
Now enter the following command: 
slmgr.vbs -ipk "<enter your new product key here>" 
Step 3 of 3
Confirm Press Enter or Return, then wait for the confirmation. 



Microsoft Windows [Version 6.1.7601]
Copyright (c) 2009 Microsoft Corporation.  All rights reserved.

C:\Windows\system32>

C:\Windows\System32>slmgr.vbs -ipk 654RT-67ZUI-TZUEG-78IUZ-RE222

C:\Windows\System32>


Useful info from (c) Mucrosoft


Get a new Windows product key for Windows-7!

If your Windows-7 product key isn't valid, if you don't have a Windows product key, or if you lost the product key that came with Windows, you'll need to buy a new one to activate Windows. You must activate Windows-7 online or by phone within 30 days of installation to use every feature of Windows-7.

To buy a new genuine Windows-7 product key, go to the genuine Windows website, check to see if Windows on your computer is genuine, and then follow the instructions to buy a new product key.

If you already have genuine Windows-7 and want to get additional product keys so you can install Windows on other computers, go to the Additional Licenses website.

FAQ 122: Updated on: 2 June 2022 19:03