Of course even if
you want to change the desktop background

in Windows 7, it's also pretty easy to customize the desktop screen, or change the desktop background in Windows 7!  

Content:




1.) Easy change the Desktop Background on MS Windows 7!
A right click on a free place on the desktop, a context menu appears. Here you go simply (click) "Personalize"
(... see Image-1 Arrow-1)

Then appears a window to "Change the Visual design". Here you simply click on "Desktop Background".
(... see Image-1 Arrow-2)

Now, choose only one or several images (... see Image-2 Arrow-1), or customize it.

PS: You can adjust the picture position, the amount of time between picture changes, and the shuffle settings for your slide show.

By clicking Browse (... see Image-2 Arrow-1), you can select other folder for desktop wallpapers in Windows 7. 




(Image-1) Change the desktop wallpaper and background in Windows 7!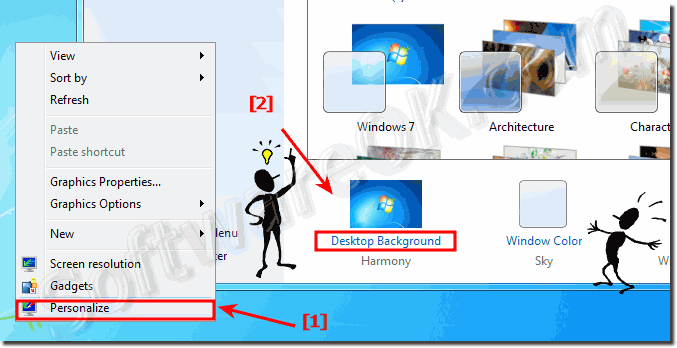 (Image-2) Select and customize the desktop wallpaper or background in Windows!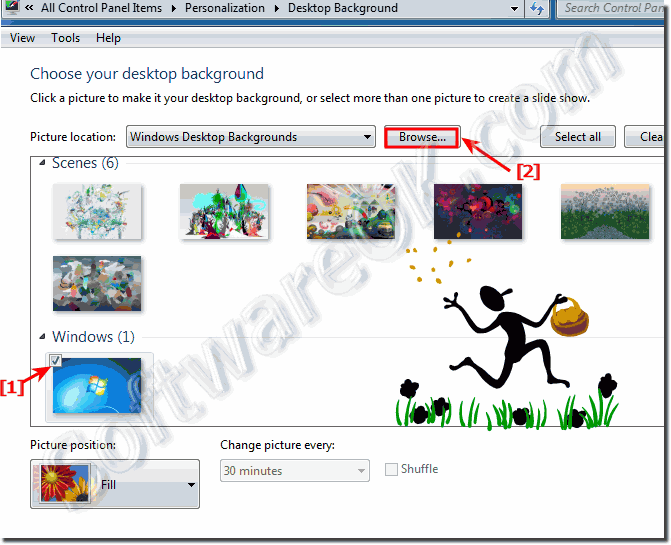 PS: Wallpaper is the same as the desktop background image!

Info from Microsoft (c)!

Click an item in the Picture position list to crop the pictures to fill the screen, fit the pictures to the screen, stretch the pictures to fit the screen, tile the pictures, or center the pictures on the screen.

Click an item in the Change picture every list to choose how quickly your slide show changes pictures.

Select the Shuffle check box to have the pictures appear in a random order.


2.) More Tips about  Desktop, Background and ... so on MS Windows OS!
FAQ 89: Updated on: 20 June 2022 04:17