If you have problems with fonts on Windows the solution is simple to reset default font on Windows 10, 8.1, ..!


Please pres the keyboard shortcut [Windows-Logo]+[R] to open the Windows-8.1 Run-Dialog and enter the command shell:fonts to open the Windows-Fonts folder.

Please click the Text  "Font settings", (... see Image-1 Arrow-1) in the Window Font-Settings click the button "Restore default font settings" (... see Image-2 Arrow-1)
This also removes all manual changes that you've made to your display settings.

See also:
... change font size and font type for programs in Windows 8.1 and Windows 8!
... disable or enable ClearType in Windows 8.1 or 8!



(Image-1) In Windows 8.1 reset font to default value!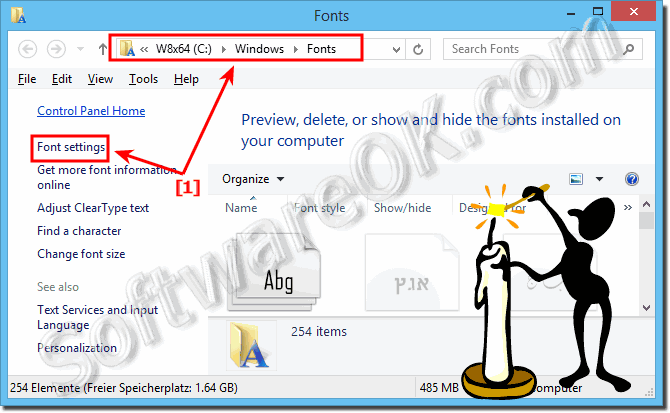 Windows 8.1 can hide fonts, based on your input language settings, in programs that allow you to select a font. You can let Windows 8.1 show and hide fonts automatically, or you can choose to see all of the fonts installed on your computer in your Windows 8.1 programs.



(Image-2) Restore default font setting in Windows 8.1 and 7!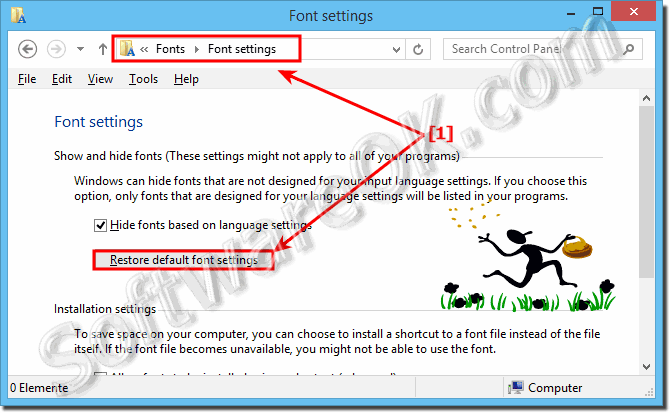 FAQ 216: Updated on: 15 September 2019 11:02