To install or change the language in Windows 8.1 / 10 is a very important key feature in Windows! Here is a clear solution to show how to solve the problem!

It is a very important and practical option in Windows 8.1, as well as under Microsoft's Windows Server 2012 and 2008, it is now also possible to quickly install additional national languages ​​on the tablet PC and desktop PC and also to quickly change them.


Content:
1.) Add and remove languages ​​in Windows 8.1 and 10! 
To install additional languages for Windows-10/8.1, or to change the current language, 


please press the key combination [Windows Logo] + [R]  and type in the edit-box the command:
control.exe /name Microsoft.Language (... See Image-1 Arrow-2). 

Likewise, you can open the Windows-10/8.1 language settings (Image-1) via the

"Control Panel"
See: ... Open (call, start) Control Panel In Windows 8.1/8!
and then click the icon (symbol) "languages".

Now you can install other Windows-8 and 8.1 language ( ... See Image-1 Arrow-1 ).

Move after installing the required language to the first position ( ... See Image-1 Arrow-3 ).

Likewise, by clicking "Remove" you can uninstall unneeded languages from Windows-8.

Tip: ... Download Windows 8.1

On this point, you can also change the Keyboard layout!





(c) Microsoft

Language for Windows-8:
Afrikans
Albanian
Alsatian
Amharic
Arabic
Armenian
Assamese
Azerbaijani (Cyrillic)
Azerbaijani (Latin)
Bangla
Bashkir
Basque
Belarusian
Bosnian (Cyrillic)
Bosnian (Latin)
Breton
Bulgarian
Catalan
Central Kurdish
Cherokee (Cherokee)
Chinese (Simplified) Chinese (Traditional)
Corsican
Croatian
Czech
Danish
Dari
Divehi
Dutch
English
Estonian
Faroese
Filipino
Finnish
French
Frisian
Fulah
Galician
Georgian
German
Greek
Greenlandic
Gujarati
Hausa (Latin)
Hawaiian
Hebrew
Hindi
Hungarian
Icelandic Igbo
Inari Sami
Indonesian
Inuktitut (Canadian Aboriginal Syllabics)
Inuktitut (Latin)
Irish
isiXhosa
isiZulu
Italian
Japanese
K'iche'
Kannada
Kazakh
Khmer
Kinyarwanda
Kiswahili
Konkani
Korean
Kyrgyz
Lao Latvian
Lithuanian
Lower Sorbian
Lule Sami
Luxembourgish
Macedonian
Malay
Malayalam
Maltese
Maori
Mapudungun
Marathi
Mohawk
Mongolian (Cyrillic)
Mongolian (Traditional Mongolian)
Nepali
Northern Sami
Norwegian (Bokmål)
Norwegian (Nynorsk)
Occitan
Odia
Pashto
Persian
Polish
Portuguese
Punjabi (Arabic)
Punjabi (Gurmukhi)
Quechua
Romanian
Romansh
Russian
Sakha
Sanskrit
Scottish Gaelic
Serbian (Cyrillic)
Serbian (Latin)
Sesotho sa Leboa
Setswana
Sindhi (Arabic)
Sinhala
Skolt Sami
Slovak
Slovenian
Southern Sami
Spanish
Swedish
Syriac
Tajik (Cyrillic)
Tamazight (Latin)
Tamazight (Tifinagh)
Tamil
Tatar (Cyrillic)
Telugu
Thai
Tibetan
Tigrinya
Turkish
Turkmen (Latin)
Ukrainian
Upper Sorbian
Urdu
Uyghur Uzbek (Cyrillic)
Uzbek (Latin)
Valencian
Vietnamese
Welsh
Wolof
Yi
Yoruba


2.) Set a primary language as the display language in Win 8.1 and Eight!
With Windows 8, it is enough to move the language you want to use to the top of the list and simply 
log out of the Windows 8 computer, or reboot
 the PC. 
For Windows 8.1 you have to click on the language option (... see Image-1 Point 4)
and click on the text:
"Set as primary language" or "Make this the primary language" (... see Image-2 Point 1)


Then comes the request to 
log out of the Windows 8.1 PC. 
But you do not have to do that right away. 
The language change, however, takes place only after the 
new application on the Windows 8 PC (Logout / Login)
! 


(Image-2) Primary languages on Windows-8.1 and 10!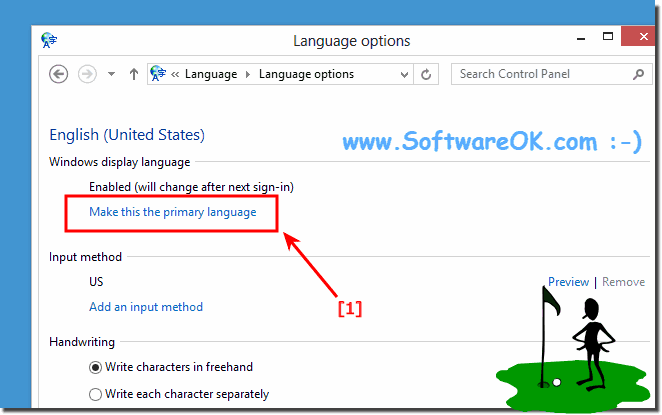 Info:

By adding multiple languages to your account, you can:
* Choose the language, that you want to see most often in Windows and in the apps you use.
* Switch between the languages you use to type. 

For Windows 8, you'll be able to add and type in the languages that were in Windows 7. You might also be able to download a language pack in English, Arabic, Catalan, Chinese (Simplified), Chinese (Traditional, Taiwan), French, German, Japanese, Korean, Portuguese (Brazil), Russian, Spanish, Swedish and Turkish (depending on your region). 

First, you have to add the languages you want to use to your list. You might have to download and install a language pack for some languages to work on your PC. If you need a language pack, you'll see available for download next to the language name in the language list.


FAQ 33: Updated on: 20 July 2019 07:41