It is very popular and also easy to shut down all Microsoft Windows Desktop and Server OS 
with key combination !



Contents:



1.) The practical shutdown of MS Windows with key combinations!
1. Press Windows Key + D  to switch to the desktop,

2. Then press ALT+F4 to bring up the Windows shut down window.

3. Use the arrow keys to select the appropriate action

(in this example shutting down Windows 11)

4. And then press ENTER.

(

... see Image-1

) 

Using this key combination, you can access the shut down dialog on all Windows operating systems!



(Image-1) The Windows Keys for shutdown!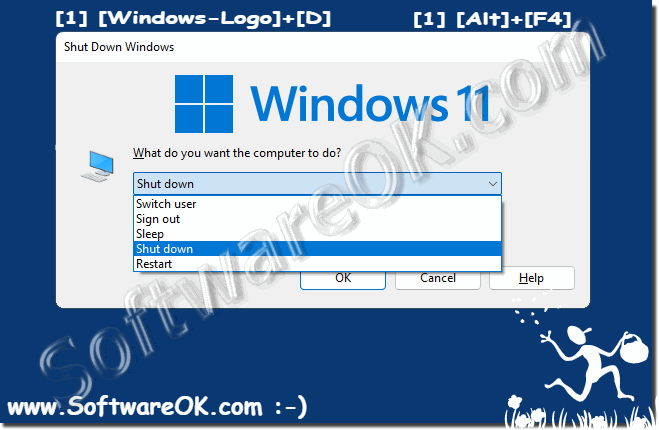 2.) Why shut down Windows 11,10, ... etc with key combinations!
Simply put it saves time and is easy on the mouse, the key combinations are usually faster! 

Once you get used to keyboard shortcuts, they can make your work on the Windows computer easier and more efficient. It's not just about shutting down, it's also the case when you log out of a Windows account, or when  you quickly switch Windows, or the PC have to restart!


3.) More tips on keyboard shortcuts and shutdown!
FAQ 16: Updated on: 8 June 2022 10:48