If the Explorer download folder is on grouping view in Windows 10 you can deactivate it!
File Explorer is the ultimate file browsing tool on a Windows 10 computer and is much better than
Alternative Quad File Explorer
. It provides a great sense of customization for listing and performing operations on a file. A user can arrange the
searched files and folders by name,
type, date, size, etc. Files with a common attribute can also be grouped using the grouping function .
In Explorer, the download folder on view without grouping under Windows 11 and 10!
1.
Open the download folder in File Explorer
2. Click
"View"
tab
3. Then the disable grouping
4. Close Explorer Window
(
... see Image-1 Point 1 to 6
)
If necessary, 
do a correct Windows 10 restart
for the settings in the
registry
also really be saved!
(Image-2) Explorer download folder view turn off grouping on Windows 10!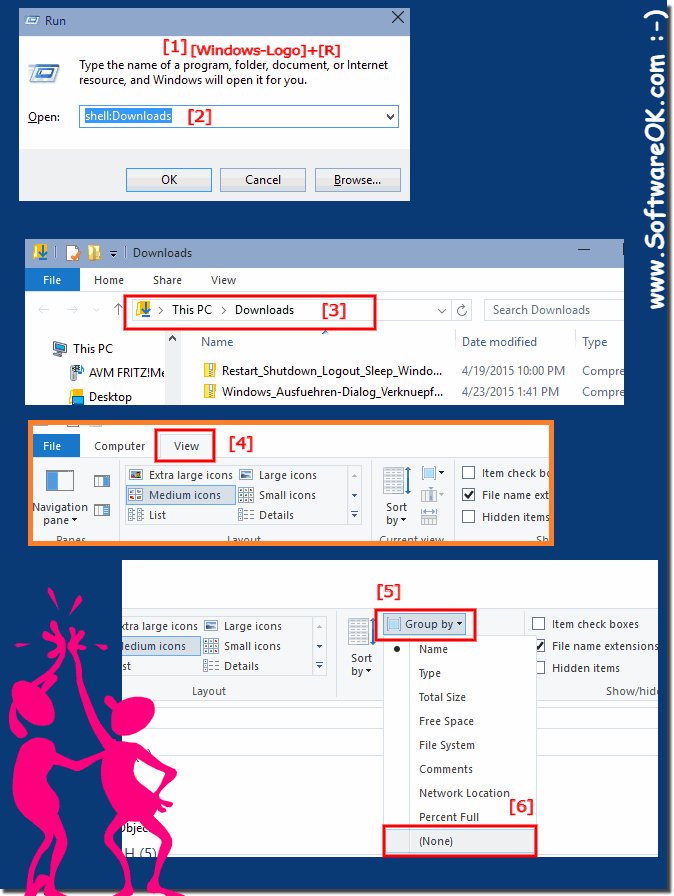 Footnote : However,
this feature does not always help users.
For this reason, these functions can be switched on or off.
This article will show you how to disable file grouping in File Explorer on Windows 10.
From the above it is clear that Windows Explorer attaches great importance to the adaptability of folder entries, which makes the user interface very easy to use and to organize according to the wishes of the individual users.
The nice thing about Explorer is that the sort, view and group options can be easily changed.
A user who is not satisfied with a particular view mode only needs to click the View option to make another selection.