Under Windows 10 you can adjust the cookies settings very quickly in Internet Explorer!
The elegant cookie setting solution is not only written for
Windows 10
, this example can also be used as a cookie solution on earlier versions of Microsoft's Windows operating systems, regardless of whether it is a Windows desktop, tablet, Surface Pro / Go, or even a server Operating system is.
Adjust cookie settings and privacy on W10 IE11!
1. Start Internet Explorer
2. Click on the gear icon in the top right corner.
3. Then via "Internet Options".
4. Open the "Data protection" tab and click the "Advanced" button.
5. and adjust the cookie settings individually
(
... see Image-1 Point 1 to 5
)
(Image-1) Adjust Internet Explorer 11 and cookies settings!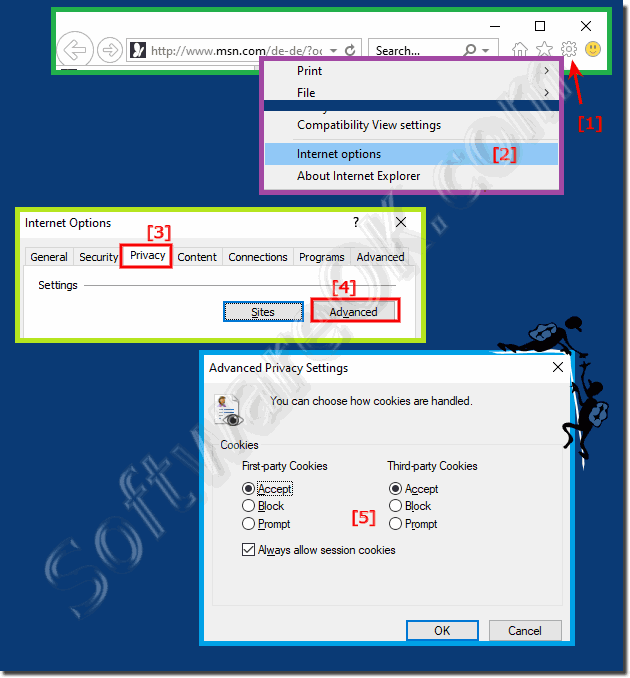 Info:

Make sure that the Override automatic cookie handling check box is selected when the Advanced Privacy Settings window opens. Make sure that first-party and third-party cookies are accepted and click OK to enable cookies. Please close all open browsers before trying again. Enable or disable cookies in Internet Explorer 11. Cookies are treated very differently in Microsoft Internet Explorer 11 on Windows 10 than in older IE versions. This way you can activate or completely deactivate cookies.