If no connection can be established via WLAN / WiFi under Windows 10 / 11, whether Surface or not!

If Windows 11 or 10 runs 5 to 10 days at a time, especially if a lot of data has been transferred, for example, large downloads, or very intense surfing, it may come to overflow. The bottleneck for this is yet unknown, this happens on different systems, whether it is a Windows desktop, tablet, Surface Pro / Go, or even a server operating system.


Content:
1.) Simply disable / activate the WLAN / WiFi under Windows 11 / 10 !
1. Network connections start 
from the Windows 10 Control Panel
!
1b.
For
 example,
use the command "

ncpa.cpl"

via the Run dialog [Windows + R].

1c.
Optionally, you can open the network connections via the Windows-X menu.
Keyboard Shortcut Windows Logo + X, or Mouse Click the Windows LOGO

In Network Connections, right-click the WI-FI Network Adapter WI-FI Network Connection, disable and enable again.


See also: ► 
Commando line to see the WLAN info
 Network Adapters  Disable  and Enable the WI-FI on Windows-10!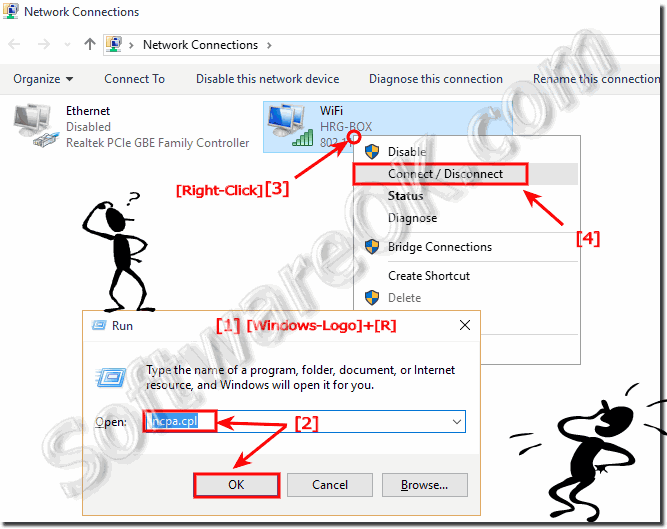 2.) Restart the Windows 10 / 11 to be able to go back online via WiFi / WLAN!
A proper reboot of W10 is always good and should always happen at regular intervals, preferably once a day, depending on the usage of the MS OS and at its sole discretion