Exclude drives, files, and folders from MS Windows Defender antivirus scans!
This is not about the Windows Defender Antivirus operating improperly, but being too accurate and preventing a
drive from being safely removed or ejected
. Especially if it is an external hard drive, or a USB stick with many videos and pictures. The following steps will help you exclude drives, files, folders, and other items from scanning on Windows 11, 10 and MS Server OS.
1. Please open the
Windows 10 / 11 settings
 simply
Windows-Logo + I
 and enter the text
"defender"
.
2. Scroll to the item 
"Manage settings"
3. Scroll to the point 
"Add or remove exclusions"
4. And
exclude
folders, or complete hard disk paths!
Here in the example the external drive "Y:\" 
(
... see Image-1 Point 1 to 8
)
It works well and is practically the 
simple to add or remove
 drives!  
(Image-1) Exclude external drive from Defender Virus Scan!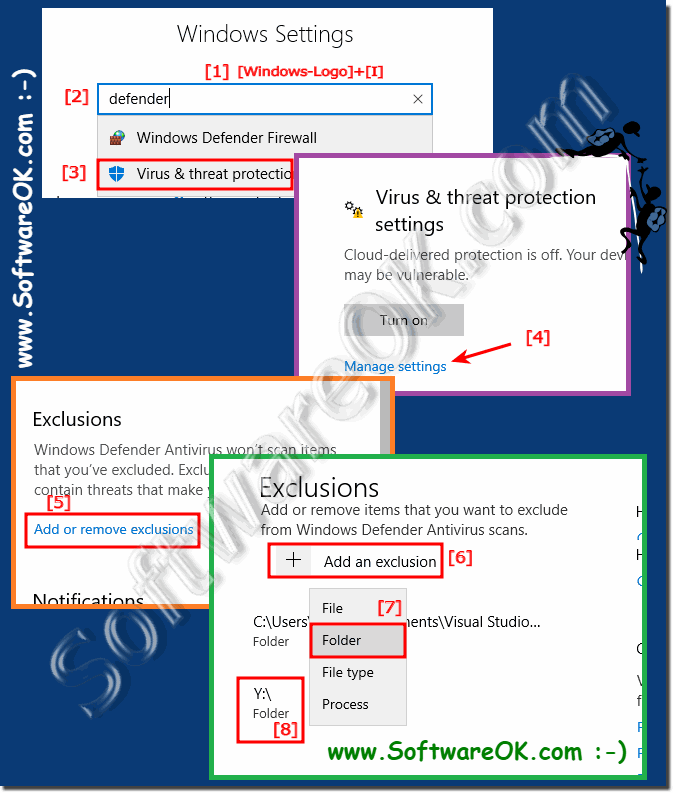 Info:
Under
Windows 10/11, the activated Windows Defender Antivirus is
usually your default antimalware software to protect your device and data from viruses, Roolkits,
Ransomware
 and other security threats. Although the built-in Windows 10 antivirus works well for the most part, it may flag a file or folder that you trust as malicious. If you want to prevent this type of behavior from occurring, Windows Defender Antivirus provides an option to exclude files and folders, as well as file types and processes that should be scanned and blocked.
As you can see, you do not need a Windows 10 guide to take these simple steps to exclude specific items and locations from Windows Defender antivirus scans.
What can I do if I still have problems with the task "Exclude External Drive from Defender Virus Scan" is a frequently asked question. Easy Restart the Windows 10 please 
perform a correct Windows restart
.