There is nothing easier than to safely remove the disk, which is also simple and easy in famous MS Windows 11/10!
In order to avoid data loss under Windows, it is advantageous, especially with external hardware components, such as
data carriers
, USB hard drives and USB sticks, to remove them safely instead of simply pulling!
1.) Safely remove via the taskbar! 
Via the taskbar you can accomplish this task the fastest. If it is not displayed, select Show hidden icons. 
If the search for the symbol Hardware safely remove was inconclusive, just read on 
point-2
! 
(Image-1) Safely Remove Disk via Task-Bar!

You must have noticed that when disconnecting a device from your Windows computer, the Safely Remove Hardware and Eject Media icon appears in the system tray or in the notification area. You should click the icon to remove or eject the desired device.

2.) Command to open / run Safely Remove Hardware! 
Start the command prompt and enter the following command: 

rundll32 shell32.dll, Control_RunDLL hotplug.dll


To list all hardware / disk!  
Mark the data / medium, confirm, which devices should be stopped. Click "OK" to continue. 
(
... see Image-2 Point 1 to 4
)
(Image-2) Safely Remove Disk command!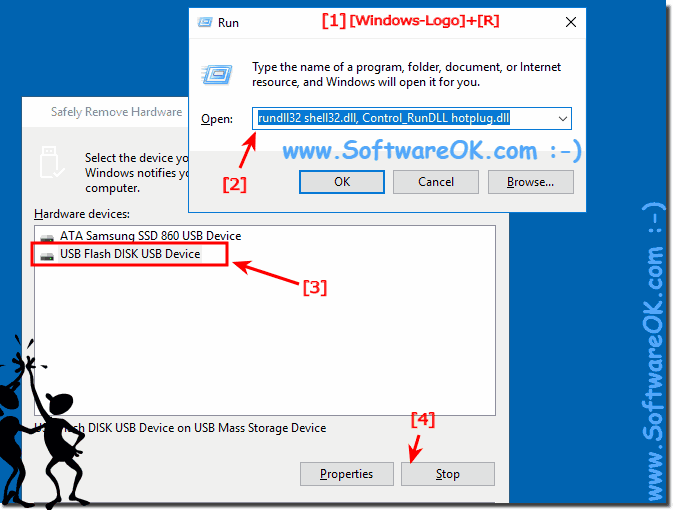 However, sometimes you may find that the Safe Remove window does not appear even after you click the icon of the device you want to remove or eject. If you are desperate to try, here's the solution, what you can do in such situations to safely eject or remove the hardware, or disk! 

3.) Safely remove hardware does not work! 
Restart Windows 10, please do not shut down and start, a proper restart is required here. 
If removing the hardware safely does not appear in the system tray,  
first open the
Device Manager
and make sure that the driver is up to date 
and open the Properties box of drives (
... see Image-3 Point 4
)
Set the Properties to "Quick removal": (
... see Image-4 Point 1 and 2
)
(Image-3) 4 Safely Remove Disk Update disk driver!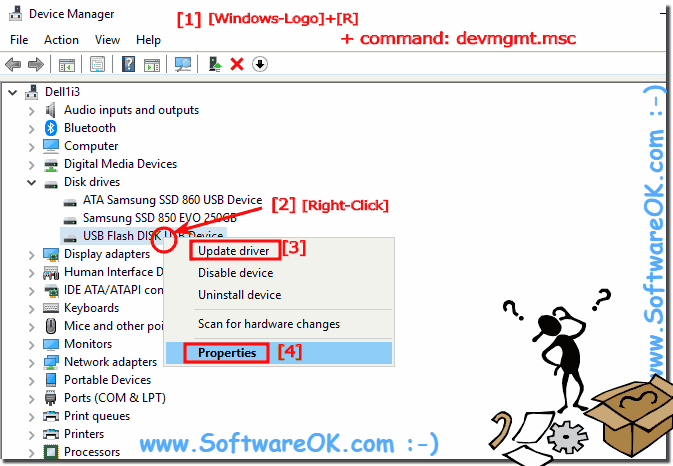 (Image-4) Enable safely remove disk Polices on Win-10!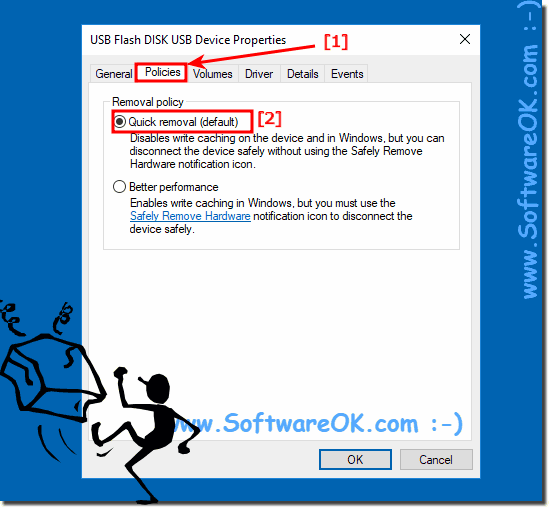 Quick removal (default)



Disables write caching on the device and in Windows, but you can disconnect the device safely without using the Safely Remove Hardware notification icon.


Better performance



Enables write caching in Windows, but you must use the Safely Remove Hardware notification icon to disconnect the device safely.



4.) Is Removing Hardware Safe in Windows 10 Important? 
The reason for this is that before disconnecting a device from your computer, you first need to prepare Windows for the change using this feature. In this way, Windows ensures that all data has been stored on the device and the device has been taken out of its holding. Removing the device without using the Safely Remove Hardware feature may damage your files and cause your data to be lost.
  
5.) ... External tools to safely remove data carriers and drives!
The tool ►► 
OpenCloseDriveEject
 is comfortable and has other useful functions! Here in the example with zoom factor in the taskbar menu. Simply click the icon in the notification area of ​​the Windows taskbar and eject drive, or Safely Remove.
(
... see Image-5
)
(Image-5) Open, Close, Drive, Eject DVD, USB, CD, BlueRay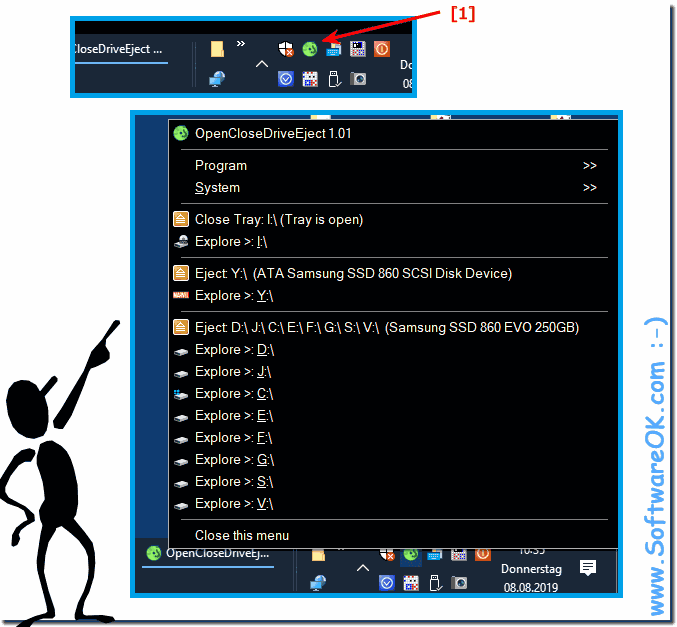 Info:

Obviously, sneakily unplugging a drive that is being written to can corrupt the data. Even if the drive is not actively being written to, data can still be corrupted. By default, most operating systems use something called write caching to get better performance from your computer. If you write a file to another drive, e.g. a flash drive, the operating system waits to actually perform these actions until a series of requests are met, and then performs them all at the same time, this is more common when writing small files.