It is not that easy to set up , configure and delete a guest account for MS Windows 10 11 Home, but it is also not impossible on Microsoft Desktop PC, Tablets, ...!
There used to be a predefined guest account for Windows Home versions, it can also be set up in Windows 10/11 Home, just a little differently. But it can then be used as a guest account, and after replacing it, simply delete the guest user account, as an extension to FAQ: 
a guest account on Windows 10/11 Home
!  
Here is a solution for 2022, also suitable for Windows 11 step by step:
1.) Set up / configure Windows 10 Home guest account!
1. As described here: ►► Start 
Windows command prompt as admin
2. Create user: 
net user "Guest-2021" /add

3. Add to guest group: net localgroup guests "Guest-2021" / add
4. Remove from User Group:
net localgroup Users "Guest-2021" /delete
5. Check whether the account has been created 
PS:
A very quick solution to set up many guest accounts for Windows 10/11 Home on Microsoft Windows 10 Home, it is done quickly , the effort is less than 1 minute, when the guest has logged in, 
the user profile is created
!    
(Image-1) Windows 10/11 Home set up, configure and delete guest account!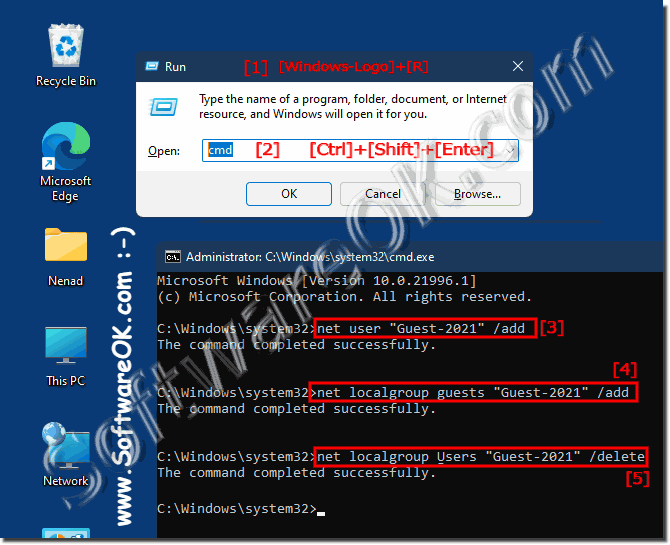 2.) Delete the guest account again under Windows, Windows 10 Home!
One can the
delete command to control userpasswords2 users
 use 
but Windows 10 / 11 Home standard and correct procedure here 
1. As described here: ► 
Windows open 10 / 11 settings
 (Windows + I)
2.
"user"
to type
3 to 
add "more users .... remove "
4. Click on" Guest-2021"
5. Remove" Guest-2021"
(
... see Image-1 Point 1 to 5
)
(Image-2) Windows 11/19 delete guest account!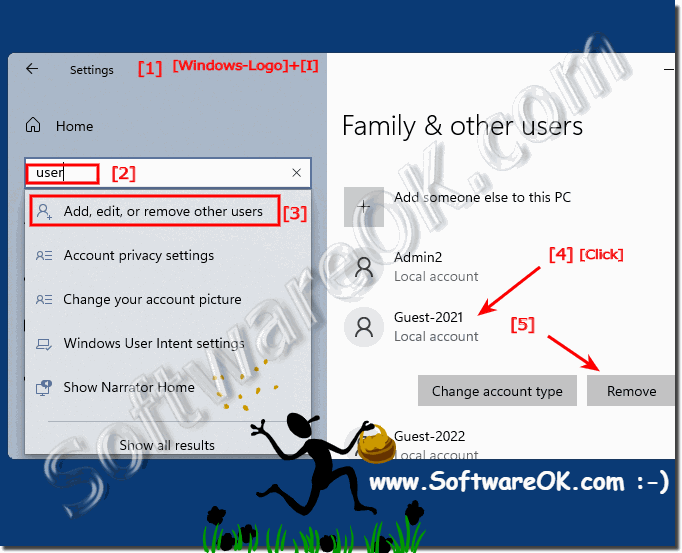 3.) Make existing user a Windows 10 & 11 Home guest!
1. Pass the command control userpasswords2 from
2. Select the user who is to become a guest
3. "Properties" button 
4. And about "group membership"
5. Make the user a Windows 10 / 11 Home guest
(
... see Image-3 Point 1 to 7
)
(Image-3) Windows Home user to guest account!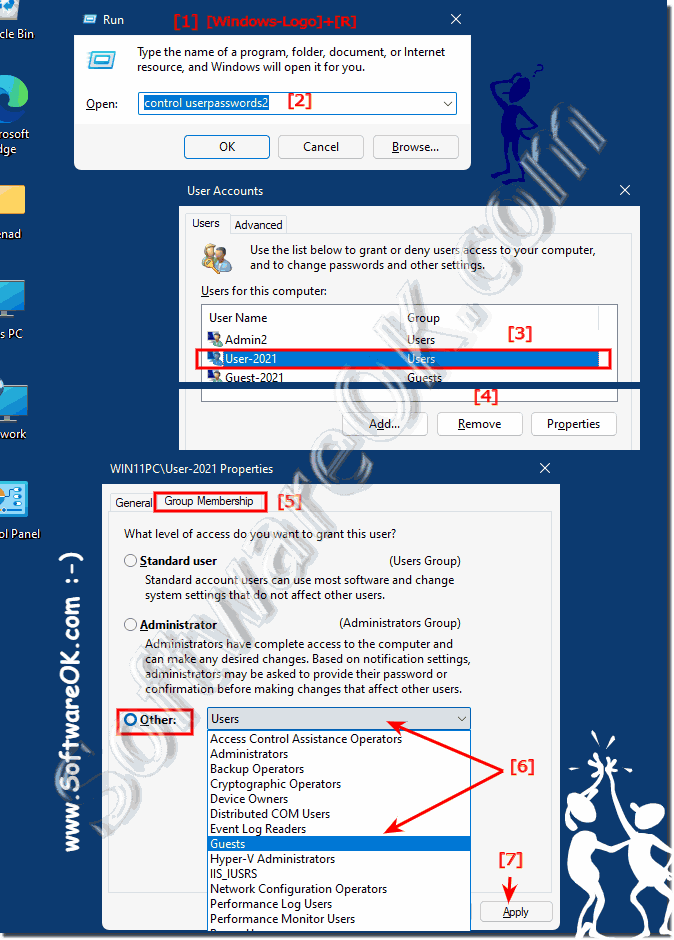 4.) More tips on Windows 11 / 10 accounts!
There is no predefined guest account under Windows 10 Home, but a guest account is practical and has advantages to use on the computer so that the guest can use installed tools, but cannot access your personal data with the guest account!
You can change the guest's password at any time to block access.
Execute
the command
"
control userpasswords2
"