It is simply and easy to switch ergo change the user accounts privileges in Microsoft Windows 10 and new MS Windows 11 Desktop OS!
Content:
1. Use the keyboard shortcut
Windows key + R
to open the run command
2. type command: 
netplwiz
, and press Enter.
3. Select the user account and click or tap the
Properties button
.
4. Click the
Group Membership tab
.
5. Choose the
account type
: Standard User or Administrator.
6. Click or tap Apply Button to complete the task.
(
... see Image-1 Point 1 to 5
)
(Image-1) Change the user accounts privileges on Windows 10!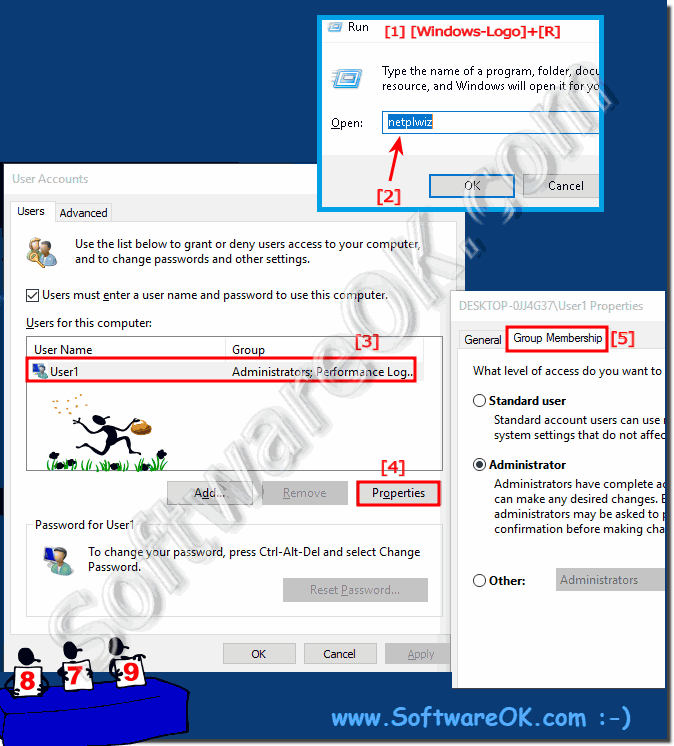 A lot of Windows users are wondering if it is possible to change the administrative user under the new Microsoft operating system Windows 10 / 11 that is currently the best and most stable windows of all time, here is the answer to this very important question. You can also use this solution for your Windows Web Server System 2016 and 2012 and for Mobile Tablets / MS Surface Pro and Go to change, adjust and modify administrative user.  
2.) More about permissions, user accounts, ... under MS Windows OS!
Windows permissions and user accounts are important security aspects both on Windows 11, 10, ... desktop and on Microsoft's server operating systems, so you should also deal with them in order to be able to use them sensibly!