The difference between account name and user name is unknown to many MS Windows 11, 10, 8.1, ... desktop and MS Server users!
Terms such as user, account and login names are often used, which lead to even more confusion, but the user name and user account use Windows 11, 10, 8.1, ... to save the data with this
name in the Users folder
Windows users need to be able to change them later, if necessary.
In the past, this folder was simply called or displayed
as its own files
.


Content:
1.) The username and login name (change account name or username)!
1. Press the
Windows key + R
, type
netplwiz
2. press Enter.
3. Click the account name you want to change and click Properties.
4. Now you can see the user name /  
account name
5. And the full
name that appears when you log in to Windows 11 / 10
, or in the start menu
So, the account name / user name is often an abbreviation and also serves to save the data, under this name in the User folder (My Documents) which can be changed later.
The actual username is usually your real full name, which you see when Windows starts, for example.
There is nothing else to change, if you decide to use a new username, just change the full name 



(Image-1) The difference user and account names on Windows 10!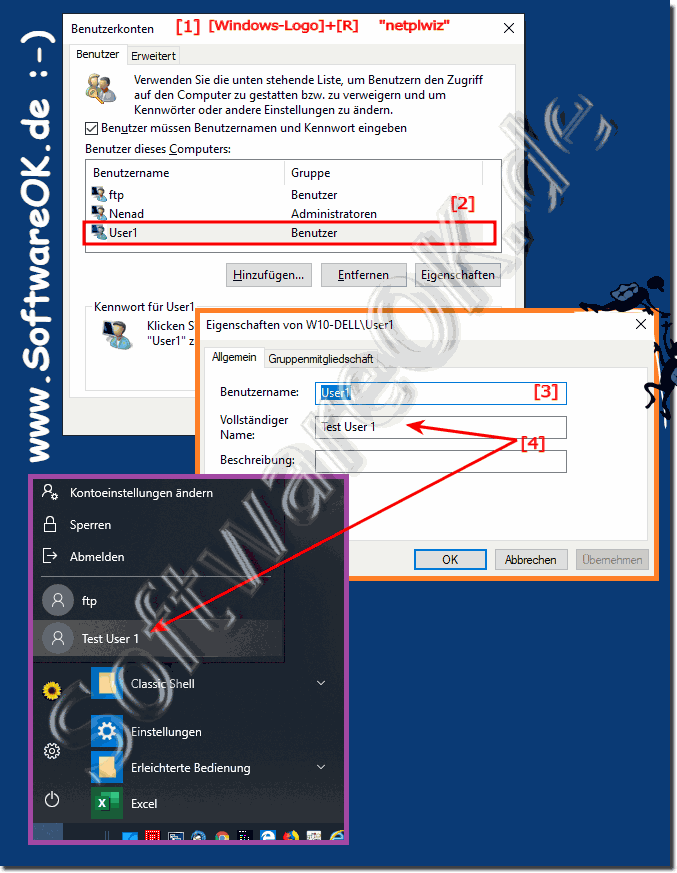 Windows stores all user files and folders in C: Users, followed by your user name.
There you will see folders such as desktop, downloads, documents, music and pictures.
In Windows 10, 8.1, ... these folders are also
displayed in File Explorer under This PC and Quick Access.




2.) Profile folder name, formerly My Documents folder (adjust before creation)!
I have the description here how to do it afterwards:
... My files, documents Move folder on Windows 11 / 10 ! 

However, it makes more sense to do this after creating a new user account, especially if you create several Windows 10 users at once
, you can even create them in a single folder on the drive / partition D: to assign them to one Strike to create all
program shortcuts on the desktop
, but here there are no limits to the imagination.
Here on the Microsoft support page there are further complex options with regard to user accounts and folders:
.... Adjusting the local standard
user profile
when preparing a Windows image


Here step by step, just don't panic!


1. Before you create user accounts, log in with an admin user on

the second Open as usual the  Windows Registry Editor

3. Open the registry path
HKEY_LOCAL_MACHINE\SOFTWARE\Microsoft\Windows NT\CurrentVersion\ProfileList
find (here All definitions in relation to the user profile)  

4. The value "ProfileDirectory" is the one that interests us,
this is responsible for when the next user is created and for the profile folder name

5. Simply create the desired path beforehand and the entry 
ProfilesDirectory on D:\user data

6. Every user who is now created is given a separate folder in D:\UserData\User..123\

quite easily and hardly complex, by the way you protect the Windows 10, 8.1, system drive
and do not have to run out of space again and again fighting
 with tight SSD hard drives , it can really prove to be a binary blessing!


(Image-2) Account names on Windows 10 and the My Documents path!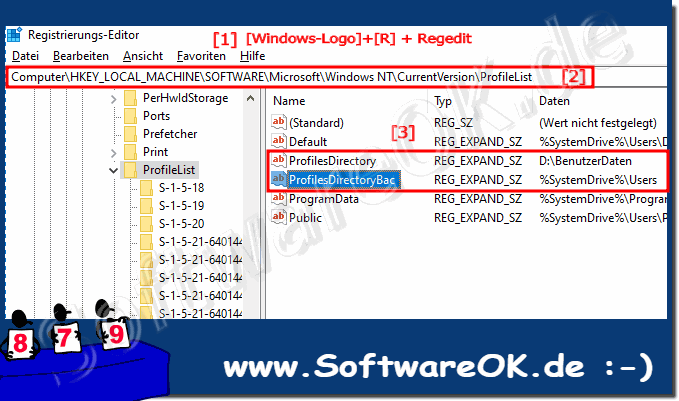 3.) What should I watch out for in the two settings?
All the settings should be made when creating new accounts under Windows 10 , 8.1, ... because afterwards it is a bit more complex and your own files may have to be
moved
, and some desktop programs under Windows 10 and the MS-Store APPs have own file path storage, which in turn can confuse
the
standard Windows 10 user
and cause question marks in the head.  

PS: 
With the command:  wmic useraccount get name, SID you can have all USER-IDs clearly displayed, for this you have to start the
command prompt or PowerShell in administrative mode
!