The visual effects of Windows 11 usually do not make the PC slower, nor do the rounded window corners!
Due to the visual effects there were perhaps disadvantages in the 90s, in the meantime the graphics cards are so fast that they are hardly stressed, even if they are only on-board or
GPUs integrated  in the CPU
, the graphics is very fast due to these.
However, the impression of turning off various effects is a bit more pleasant for us as users, by turning off some options! This is because the eye has to process fewer effects, which can lead to relaxed work for some Windows 11 users, especially if you sit in front of the PC for several hours a day!
1.) Turning off some effects under Windows 11!
1. Start the command: 
sysdm.cpl ,3
(Window + R)
2. Set the special effects  
(
... see Image-1 Point 1  to 7
)
(Image-1) Adjust the visual effects of Windows 11!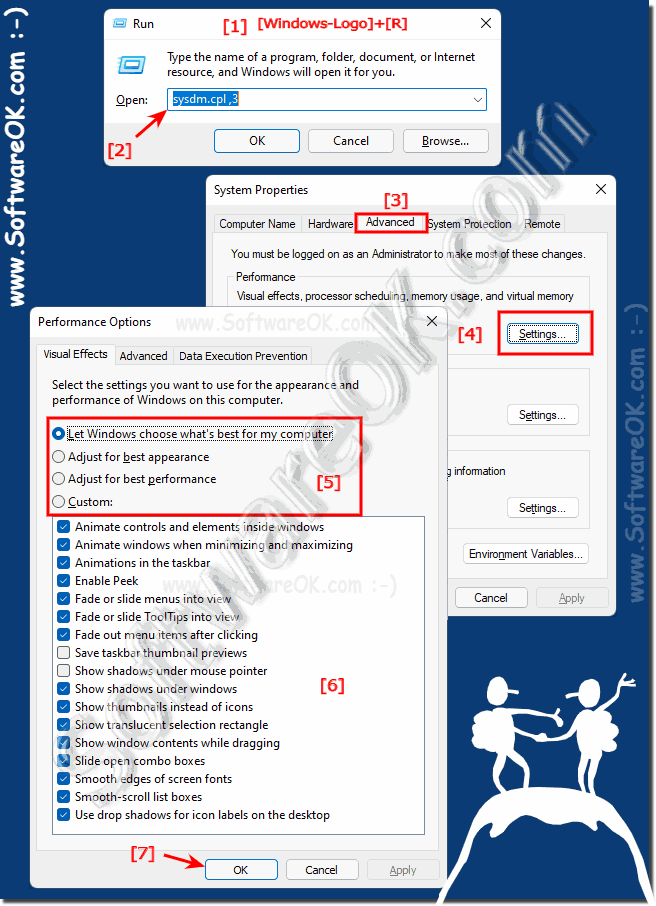 2.) According to Microsoft (c), the special effects have hardly any effect!
According to Microsoft, none of the effects will affect performance, and the pretty graphics are not meant to slow the computer down. In addition, the company said: "Performance is really our top priority".

MS wants to make sure that all of these new features are super fast and don't interfere with the operating system.


3.) ... More tips regarding faster and effects on MS Windows OS! 
Here you will find further links and tips on the subject and Co. that could help you!