The free tool makes it possible to automatically hide the desktop icons on Windows desktop and server systems!
Here is an example of automatically hiding the desktop icons!
Activate the option
and 
Thus the desktop icons are displayed with the right mouse button and hidden with the middle mouse button.
Optionally, you can set the timer after how many seconds the icons are to be automatically hidden!
You can also
hide and show desktop icons
manually,
 but it's a bit more complicated on Windows! 

Please Always Use ►  ... the latest and most current version of Auto Hide Desktop Icons for Windows !  


(Image-1) Hide desktop icons automatically on Windows 10, 8.1, 7 ....!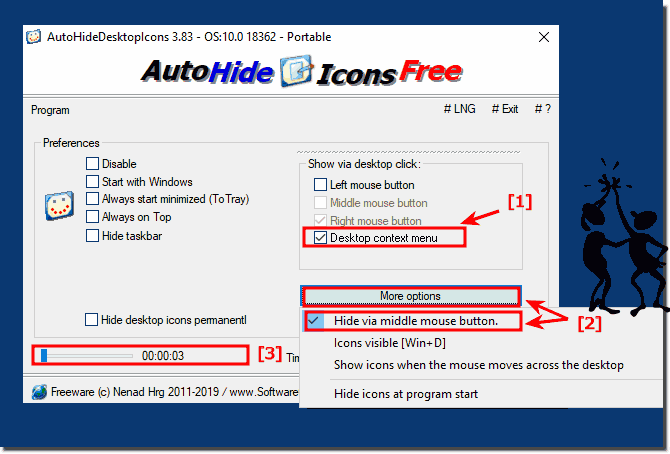 If you do not want the viewer to see some documents and folders on your desktop, you can choose to hide the desktop icons in Windows 10, 8.1, ....
Hiding the desktop icons does not mean that the desktop files are deleted. Folders that prevent people passing by, for example, in the office, immediately see your private and confidential documents, making you feel more comfortable and secure.
You can also view the hidden files and folders whenever you need them.