Very popular is to quickly hide the icons and the desktop taskbar on MS Windows 11, 10, ... Desktop and server operating systems!


Every Windows user has his preferred behavior when hiding and showing the desktop buttons / icons. For this reason, the various options in AHK are important, because some MS Windows users want to show and hide the desktop taskbar and in parallel also the desktop icons.

Or hide only when the mouse is over the taskbar, or that the desktop icons appear when the mouse is moved over the desktop.

In ► the Auto-Hide Desktop Icons APP for Windows you have different options, with the automatic hiding and display of the desktop icons and the adjustable time, as well as freely selectable activation options, it may be the right desktop application if the desktop is crowded with icons to get a clear view of the desktop background.


(Image-1) Hiding the icons and the taskbar!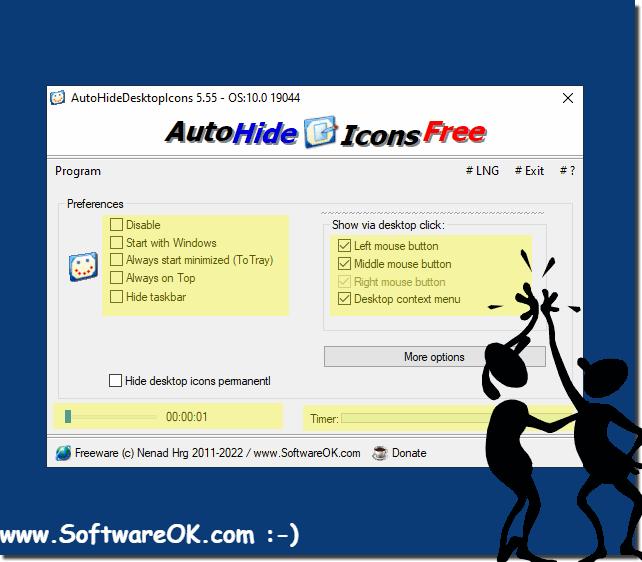 All Microsoft Windows operating systems include the commonly known icons: this PC, computer, user account folder, network, recycle bin and the popular Control Panel shortcuts that you can add or remove as icons on your desktop as a kind of buttons central to quickly customize the most important things.
This short FAQ will show you how to use the common desktop icons for your personal Windows account on Windows 11, 10, ... can add or remove.