Under Windows 10 and 11, the performance index is officially no longer available. We'll show you how you can access it.
(Image-1) The fastest way to see the performance index under Windows 10!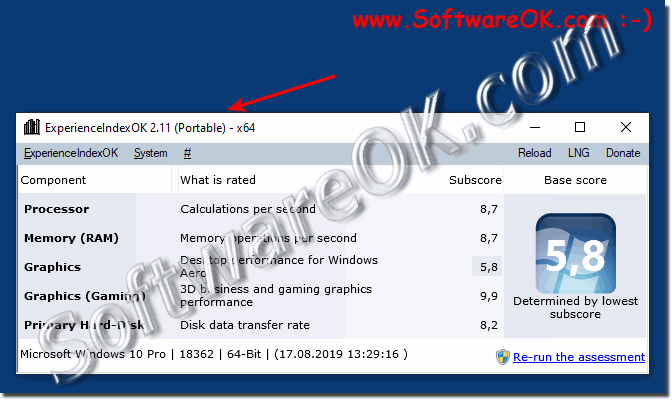 Easily determine the performance index with a program like this. To easily access the performance index on Windows 10, you can use the freeware Experience-Index-Tool. You can easily download and install this tool from the developer site. The program looks very similar to the old user interface. You can change the language to German on the left side of the screen. Then just click on "rate this computer ". You will get an up-to-date evaluation of your system, just like in Windows 8.0 or Windows 7. In addition, you can export your result as a JPG or text file. Simply click on Share WEI Score on the left middle of the screen.


The performance index uses a score scale of 1.0 (very poor) to 9.9 (very good) to evaluate the performance of your system. It examines all components such as processor, memory and graphics card and then creates a separate value for each component. The overall rating is the value of the weakest component. In the previous versions, the performance index was still easy to find in the control panel. As of Windows 8.1 , Microsoft has removed the usual accessibility. As you can see in the newer versions of Windows, the performance index, we tell you in this guide.