To show or hide the hidden files and folders in Explorer View of Q-Dir, is also possible in the File Manager! 


If you want to change the Settings:

Menu ► Extras ► System ► ...  (... see Image-1)

See also: 
► How to delete favorite filters entered by mistake?
► Dragging doesn"t work at all when dragging from a network (mapped) drive!
► edit or copy very long paths in Vista address bar!
► Popup Menus in the File Manager!
► Classic and modern Address-Bar!

Please be careful with the hidden files under windows 10 and others!



(Image-1) In Explorer Hidden and System Files show or hide!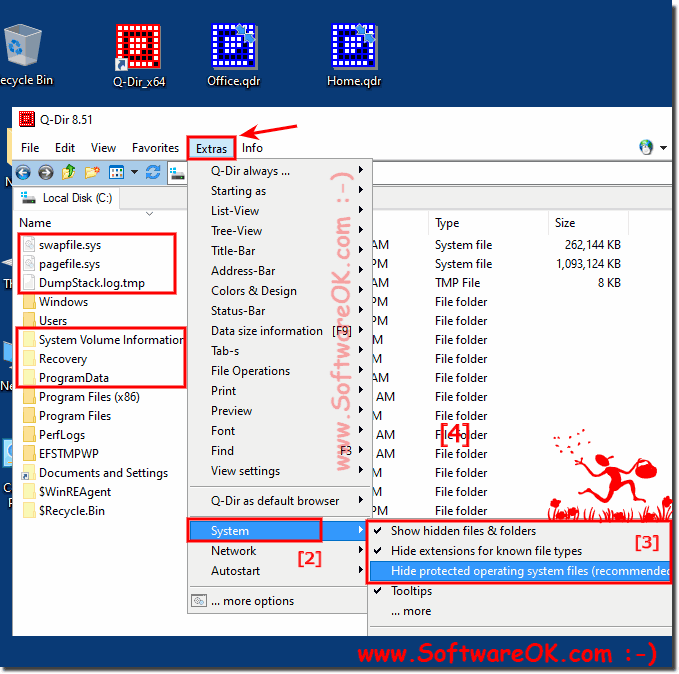 The Windows operating system offers its users the ability to hide private files and folders. If you choose to hide some kind of confidential information from unauthorized persons using your computer, you can do one of the following two ways. ► Show hidden files and folders in Windows 10!

Like any operating system, Windows keeps some of its files hidden. The developers of Microsoft did this so that users could not accidentally delete or modify important system files, so be careful with the hidden files under windows also in Q-Dir Explorer.

However, there are occasional situations where access to hidden system folders and files is simply necessary. It's also worth adding that Windows protects files from prying eyes and user folders with files to protect privacy. To hide and display hidden and system files in the Windows operating system.



FAQ 108: Updated on: 4 April 2018 19:24