The free analysis tool Windows Memory Diagnostic allows the exact checking of the RAM memory and the internal main hard disk for possible errors!
Especially recurring error messages or crashes without identifiable cause can be so targeted to get to the bottom, because not infrequently, these are caused by hardware problems. 
Alternative you can do a Quick memory test a elegant Tool named 
QuickMemoryTestOK
, but why not just start and compare what comes out so, you get a second opinion!
(Image-1) Access to essential memory and system functions under Windows!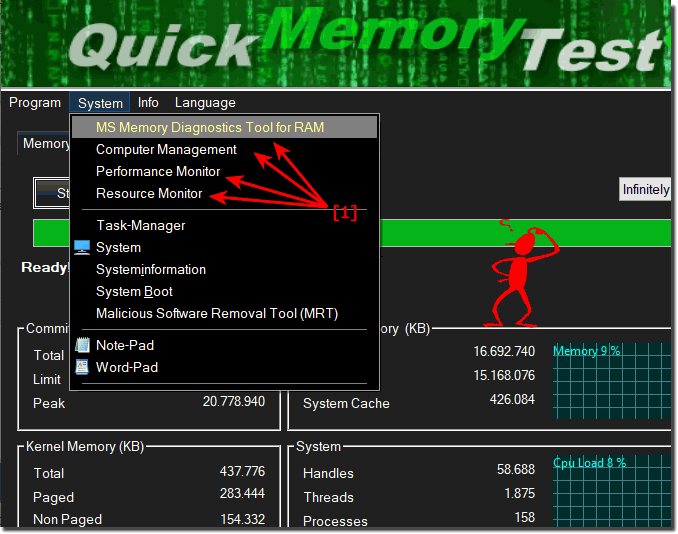 Info-1:

The free diagnostic tool can provide a quick orientation in case of suspicion whether it is worthwhile to visit a specialist dealer. The handling is easy to understand and the standard test is relatively fast. However, it hardly provides any meaningful help to find the exact cause of error messages and even fix them. Reliability, as usual with diagnostic tools, is unfortunately not one hundred percent. Therefore, in serious problems, the use of professional help is unfortunately not spared.


Info-2:

System requirements for Windows Memory Diagnostic
To Microsoft to use Memory Diagnostic, you will need an Intel Pentium, Celeron, AMD-K6, Athlon or Duron processor or compatible with the above processor with the operating system Microsoft Windows 98 or later your Version.Sollte RAM memory greater than four gigabytes , you need an additional diagnostic tool, because Microsoft Memory Diagnostic is only able to check the first four gigabytes.


Info-3:

To start the Windows Memory Diagnostics test tool, type "mdsched" in the search bar of Windows 10 and click on the search result. For a memory test, Windows must reboot: you can do it immediately or the next time you reboot the system. After restarting, the tool will start with a blue screen with white text. The standard test starts immediately. You can cancel it with the F1 key and call up the options menu. It offers several test methods: Minimal, Standard, Advanced. They differ in their intensity of test procedures for the RAM and therefore take a different amount of time. The standard test performs two test runs and takes about 8 to 10 minutes for 8 GB of RAM.