See the load balancing / load GPU on the new Windows 11 and 10 from Redstone on Windows 7 no Load Balance for GPU!
Launch the free tool 
StressMyPC
 and in the Windows Task Manager, click on the Performance tab and look for the GPU option in the sidebar to monitor the overall usage statistics for the GPU resources. You may need to scroll down to see them. 
(
... see Image-1 Point 1 to 3
)
These handy features have been added to Windows 10 Creators Update , also known as Windows 10 Version 1709. If you are using Windows 7, 8, or an older version of Windows 10, these tools will not appear in your
Task Manager
.  
(Image-1) Stress for GPU on Windows 10 and old Win 7 plus load balance!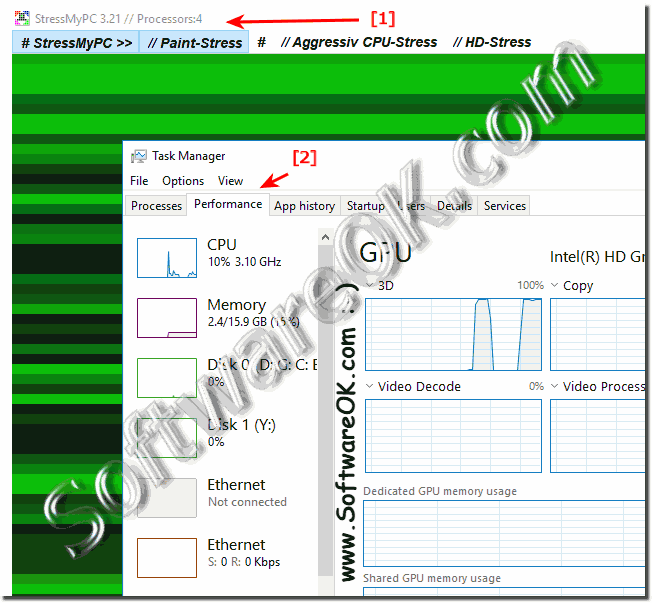 Task Manager displays the graphics card usage!
You like to gamble on Windows? Then you take a look at the capacity of your graphics card one or the other time. For a long time you had to fall back on external tools, such as MSI Afterburneer or the Riva tuner. Since the Fall Creators Update, however, this is no longer necessary, at least under Windows 10: the current operating system already lets you find out about the graphics performance of your PC with on-board resources. It makes the task manager of Windows 10 possible - and at least I noticed this only recently by chance. This not only allows you to view the running processes and control the startup of Windows programs, but now also provides an insight into the GPU utilization. It works very easy: