Disable or Enable Thumbnail Previews in MS File Explorer Windows 11/10, this Solution is also suitable for Windows 8.1 and Server!


Content:



1.) Easy Disable or Enable Thumbnail in Windows 10/11, ... Desktop and MS Server 2019, ... OS!
To Disable or Enable Thumbnail in the Windows 10 Control Panel please open the Folder Options the new name is File Explorer Options.  (... see Image-1 Arrow-1 to 3) 

OR:
Please open Run-Command in Windows 10/11 and enter the command: control /name Microsoft.FolderOptions

Click on the View tab (... see Image-1 Arrow-4)  and set the corresponding check mark the Always show icons, never Thumbnails option! To show or hide the Thumbnails in MS Windows Explorer. (... see Image-1 Arrow-5) 



Rather than thumbnail image previews of files and folders. Use this setting if thumbnail previews on Windows 10 are slowing down your computer, or if you do not need thumbnail.

See also: ► windows 10 and font folder location? ► auto startup folder in Windows 10




(Image-1) Windows 10 Thumbnails!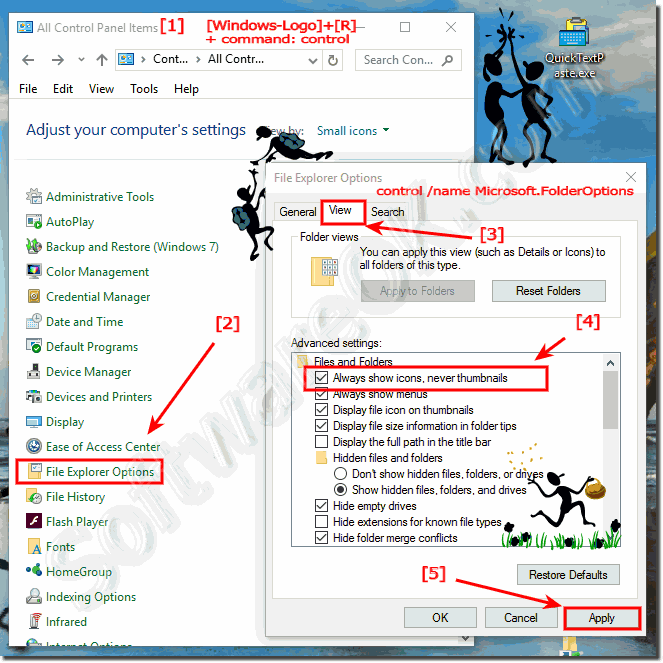 2.) More information about the thumbnails - ergo thumbnails under Windows 10/11!

Disable or Enable Thumbnail Info!

It is known that Windows Explorer can automatically display thumbnails for supported image file types (for example, JPG, PNG). This is definitely a useful feature, but there are times when thumbnails are displayed incorrectly (or not displayed at all). This may be due to a number of reasons (such as a large number of files). In any version of the Windows operating system, there is a functional ability to show the user a small thumbnail of all images, video files and documents, to make them easier to find on the hard disk using File Explorer. In order to speed up the process of displaying thumbnails, the system uses a cache file that is located in the hidden directory of the user profile.In the fresh Windows operating system version of Fall creators Update was a bug, because of which disappear miniature images of files after shutting down the PC. The system will recreate them every time, which will spend extra time, which depends on the number of media files on the hard disk.

FAQ 188: Updated on: 1 May 2022 07:26