The solution is easy to translate Auto Hide Mouse Cursor in your country language, or change e.g. switch the language in AutoHideMouseCursor.
1.) Changing the language in the mouse cursor hide tool on all MS Windows OS!
1. If you want that in AutoHideMouseCursor another country language appears
(... see Image-1 Point 1 and 2)


2. If you want to translate AutoHideMouseCursor in your national language 
(... see Image-1 Point 3)

Please use the latest version of the Auto Hide Mouse Cursor!

It is regardless of whether you are using Windows 11, 10, 7 8.1, or x 64 or x 32 (x 86) version of MS-Windows Desktops and Server OS. 



(Image-1) Translate language in Auto Hide Mouse Cursor Free!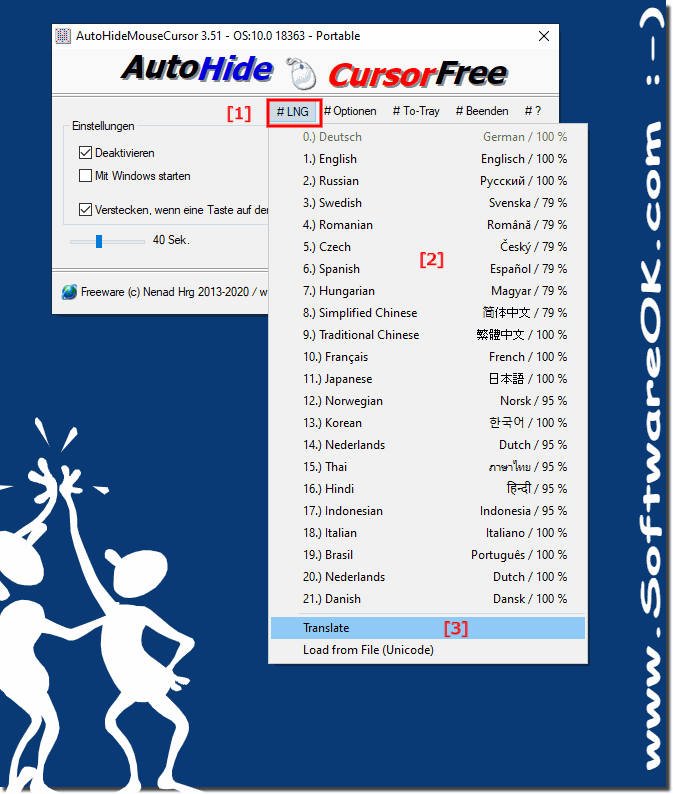 2.) What languages ​​are supported in the mouse pointer fade out?
# AutoHideMouseCursor is multilingual and a popular program worldwide:
3.) What should I watch out for when changing the language?

There is nothing great to consider, you should of course choose the language that you understand and can read, the tool for MS Windows  automatically uses the MS Windows standard language as long as it is available in AutoHideMouseCursor , if not the standard language is English!
  







FAQ 3: Updated on: 16 November 2021 22:28