All operating systems offer one or more options for making
a simple test print

!



Here I have created a simple test page in doc, pdf, xlm and rtf format in case you don't have a test page to print out. You cannot only use these under Windows. The file formats are very common, so the test pages can also be used under Android, MAC OS and Linux, and you can also proceed differently:  

Print test Page Windows 10

. No external programs like 

Print.Test.Page.OK are required

! 



Download test pages for printing:

To download, click on the link, open the test pages archive, unzip it in a new folder and save it on your PC so that it is always at hand.


►►►► ...  Testseite_doc_pdf_rtf_xps.zip

On Windows, you can simply open the Printers folder

shell:printer folder

 and the appropriate printer with the right mouse button to select Properties Select and simply make a test print.

(... see Image-1 Point 1 to 5)



(Image-1) Print test pages under Windows!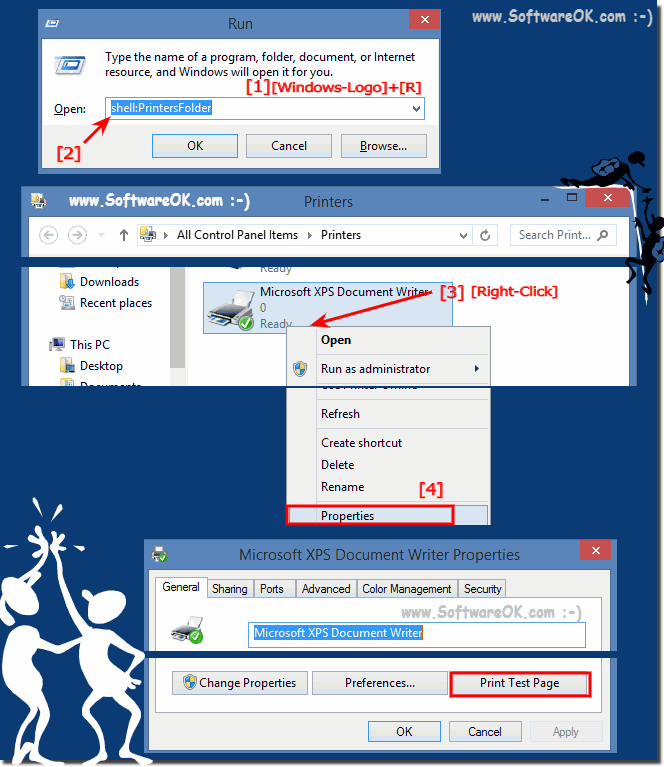 This example and test page is suitable for all Windows operating systems, such as, --- OS_Windows6.1S --- and others, so everyone can make a test printout, no matter whether advanced or inexperienced users, test printouts can be so easy.

A test page for checking the print quality of the printer is always practical and can also be created by users themselves. 


Information on the standard test printout!
When you
print a test page
, you can check all of the basic printer settings and the accuracy of the printing colors. The test page shows how correctly the printer is set up and whether the printer's
default
print settings are appropriate. The test page also prints information about the driver version and printer model. This information can also be helpful in
troubleshooting and driver problems
.

Avoiding errors in the test printout!


Checklist before the test print!
 
Connect a printer to your computer or laptop. For the printer to work, the driver must be installed on the computer. Use the CD or DVD that came with the printer to install the printer. Make sure that the operating system is recognized by the computer or laptop when you connect the printer. Make sure the cable from the printer to the computer is connected, the printer itself is connected, and the indicator light is on. Ink cartridges or printer cartridges should be installed in the printer. Load the correct number of sheets in the printer paper tray.

See also:  Printer suddenly gone under Windows 10, why ?

Own test page for the test print!

Prepare the page for printing. If you are using Microsoft Word or another MS Office text editor, format the text and give it the look you want. Set the desired font and color of the text. When everything is ready, click the ► File ► Print tab. Make

the necessary settings: how many copies of a page should be printed, which pages of the document should be printed, select portrait or landscape orientation of the page If necessary, insert the margins and other information and start the printing process, which then ends up in the print jobs to be printed.

See also: Cancel all print jobs in Windows 10 via print service !

If you still cannot print a test page after following the previous steps, you can restart your computer. Restarting fixes many hardware problems. After restarting, you should try printing a test page again to check the printer configuration. As a last resort, you should reinstall the printer driver. You can visit your printer manufacturer's website to download the latest software and drivers for your printer

Tip ►  Check if the installed printer driver has been removed !

FAQ 47: Updated on: 26 November 2020 15:09