If you have a new printer, of course you want to print the test pages to see the quality of the print!
Starting the test pages printing a printer is not a cumbersome task and can not be implemented only by experienced and administrative users, whether it's a standard printer in Windows 10, or not standard.
Open the printer directory in Windows-10,
Windows logo + R
key shortcut and the command:
shell:PrintersFolder
, inexperienced users press the
Windows logo + I
key combination and enter the text
printer.
Without hesitation you can click on printer and scanner! 
(Image-1) Windows 10 Printer test page!


Select the printer or click on the printer name and the
Manage
button! 
(Image-2) Windows 10 Manage test page print!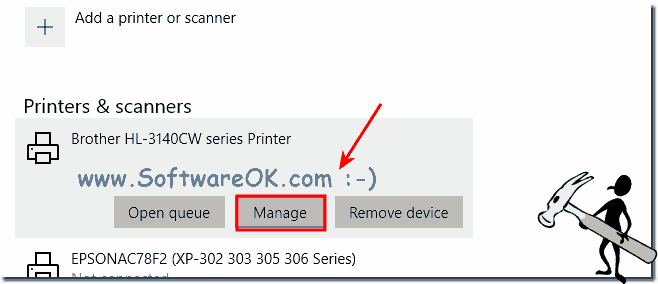 By clicking on the text Print test page, the test page print will be sent to the printer without any detours. Check beforehand if the printer is turned on and see if the paper is in the paper tray.
See also:
►
... Define standard printer for Windows-10
►
... Fax and Scan is suddenly gone in Windows 10
(Image-3) Windows 10 print test page!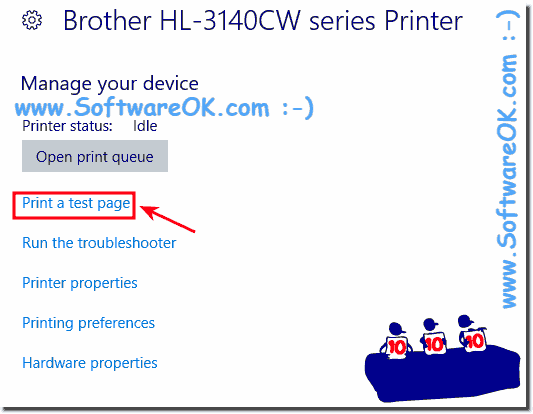 Info:

The elegant test page printing solution is written not only for Windows desktop PC, even if you can see screenshot shot at top of Windows 10, you can use this print example to the test page as a solution readily and without hesitation to print test page on other versions of Microsoft's Windows 10 Use system configurations such as Mobile Windows: Tablet PC, Surface Pro / Go, or even a Mobile Server operating system.