A double-click is a quick successive click (press the left mouse button) usually the second click should follow within 1/4 0.25 second.




 

Content:




1.) However, the double-click speed for the mouse can be adjusted.
The double-click speed for the mouse can be adjusted. Please open the control panel and double-click on the symbol with the mouse.

(... see Image-1 Point 1 to 3)

Here is a slider for the double-click speed. You can test the double-click speed by double-clicking on the image in the test field. ... Open Control Panel

See also: .... help my mouse pointer is way too fast, can it somehow regulate?




(Image-1) The Double-Click!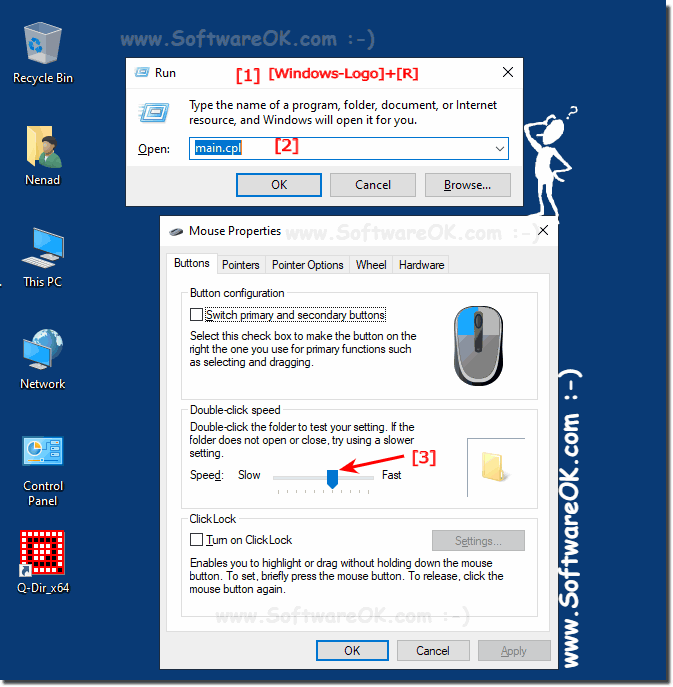 (Image-2) How do I double-click?

If you think that the mouse pointer moves too slowly across the screen, you can slightly speed up it using the operating system settings. However, unfortunately, not always these settings are sufficient, since the speed of the mouse can depend on the device itself. For example, by connecting two different mice to the computer in turn, you may find that when you use them, the pointer moves around the screen at different speeds, although you have not made any operating system settings.

2.) Tips for changing / adjusting the double-click speed! 

Once you are in the appropriate position, you should see a double click speed setting. Dragging the indicator to the left (slowly) will decrease the time between two double clicks and dragging the indicator to the right (quickly) will increase the speed.

Once you have set the double-click speed to a suitable setting, click the Apply and then click the OK .


3.) More tips for the mouse under MS Windows OS!

The mouse is one of the most important peripheral devices on all Microsoft Windows desktop and server operating systems. Here are more or less helpful tips / links for the Windows mouse!





FAQ 8: Updated on: 9 July 2022 15:40