It is rare that Windows 10/11 crashes and then the delete-safe tool does not work!


Everyone knows ► the system data check on Windows 11 and 10, but if the data shredder no longer appears on the desktop for a reason or works, one is annoyed. Mostly it is because ► some other programs are missing after the update, or that you have cleaned your PC and accidentally deleted it, often because you have selected too many with various PC cleaners or other cleaning software so that it has led to a serious backup / delete loss. The file-eraser loss problem is easy to fix!

Content:



1.) Check the working directory for the backup and delete!
1. Open the desktop folder 

2. If it looks like this in the Windows Secure-Delete desktop folder everything is good

( ... see Image-1 Point 1 )

3. Not good ( ... see Image-1 Point 2 )

Then straight to:  Restore the delete-backup tool by downloading it again ! 

4. If it does , simply try to get the Windows data shredder to work using the SafeLoeschen.exe

5. If the Windows Blank-And-Secure appears again, simply activate "Add to Windows context menu" so that you can use the MS Windows Explorer and can safely delete the data conveniently

6. Or: ► What can I do if all measures don't work!



(Image-1) At a Windows 10 crash, the file eraser no starts to delete files!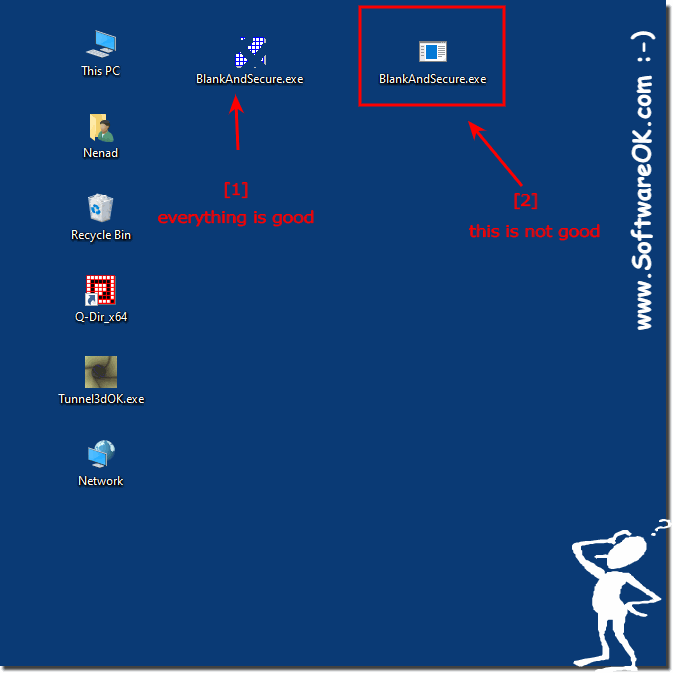 2.) Restore the backup and delete tool by reinstalling it!
1. In the download area you will find the Secure Delete Tool

2. Open the download folder in the file explorer

3. Place the Secure Delete Tool on the desktop by simply dragging and dropping it

4. Start the BlankAndSecure.exe

( .. See Image-2 Point 1 to 3 )

5. Optionally activate "to Explorer context menu" to initiate the secure deletion of data even easier!
See: ►► You can easily  delete the data safely using the MS Windows Explorer ! 


The data shredder for MS Windows does not have to be installed, you can start the file  shredder comfortably from the desktop, so it can be used immediately on your Windows desktop. 




(Image-2) If Windows 10 Crash repair the eraser for secure delete of files!

3.) What can I do if all measures do not work! 
Try to start the backup and delete with the deactivated Windows Defender, if it works there, then you may not have any problems with the safe delete of the 32 bit version, simply by using  the 32 bit version of the data shredder with a mouse The 32-bit version of the pointer stick has no functional disadvantages!





(Image-3) Recycle Bin erase the data safely on Windows!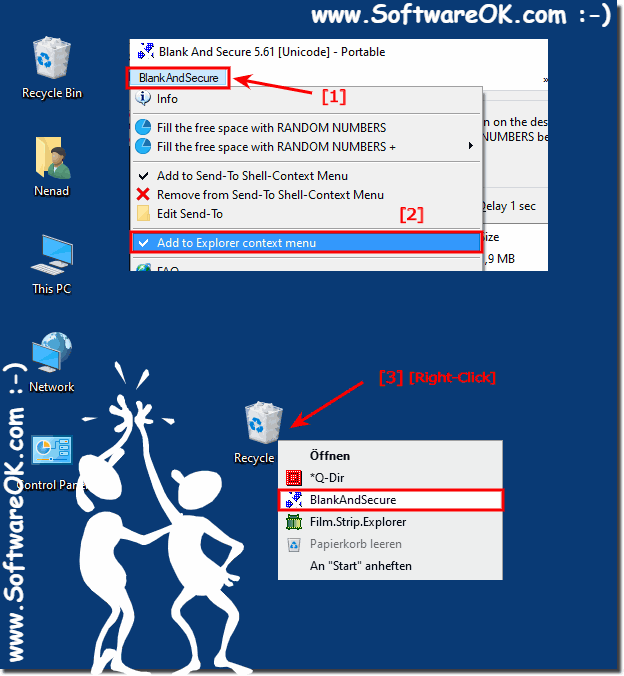 From the version onwards, shredding the recycle bin is no longer a major effort. You can use this example as a recycle bin shredding solution without any problems and without further ado on earlier and older versions of Microsoft's Windows operating systems, regardless of whether it is a Windows desktop computer or you want to shred the recycle bin on the tablet, Surface Pro / Go, or even as a document shredder on a server operating






FAQ 12: Updated on: 29 May 2022 12:59