It's easy to quickly clean up temporary files and temporary folders on Windows 11 or with one button klick!
1.) Deleting the temporary files via the run dialog!
1. Start the Run dialog 
2. Use the command  
cmd /k "del /q /f /s %TEMP%\*"
3. Start the deletion with the 
Enter
key 
4. Optionally use the 
Shift + Ctrl + Enter
  key to delete as admin
(Image-1) Command line to delete the temporary files on Windows 11 example!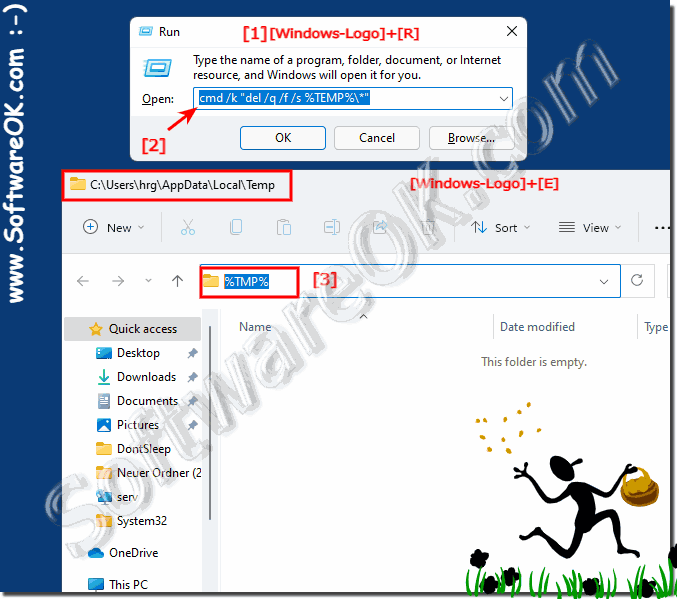 2.) Create a desktop shortcut to delete% TMP%!
1. Keyboard shortcut
Windows + D
to focus on the desktop  
2. Click on a
free pace
on the desktop
3. As always create >
New
> 
Shortcut
4. As target
cmd /k "del /q /f /s %TEMP%\*"
5. As a name for example 
TMP-Delete
(
... see Image-2 Point 1 to 9
) 
(Image-2) Quickly clean up TEMP under Windows 11 via Desktop Shortcut!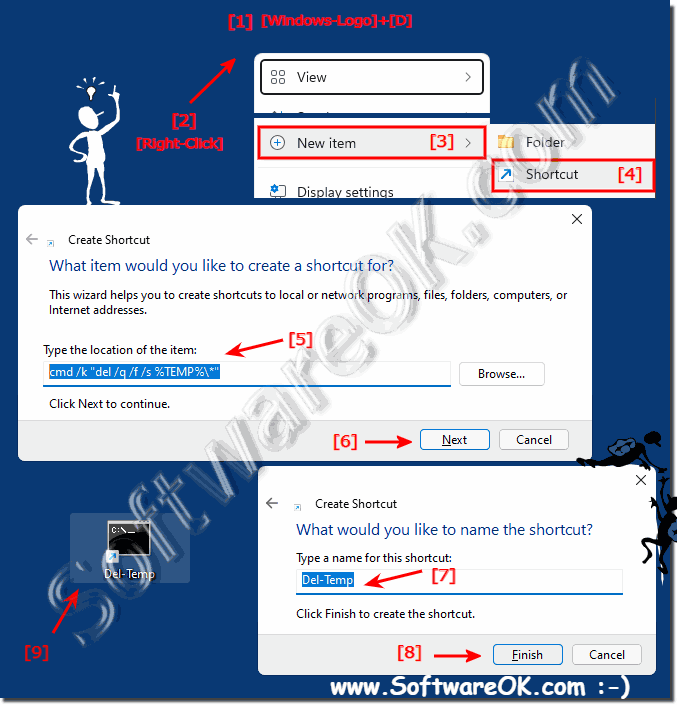 3.) What should I watch out for when deleting the temporary folder?
Usually there is nothing great to consider as it is just a kind of cache, no important files are stored here! Deleting the temporary files is one of the best ways to free up a significant amount of free space on your Windows 11 operating system.
However, you should not clean them up during the installation of programs, because installation data is also temporarily stored here, which can lead to an error as long as the respective installation is running.
4.) ... What is it good for deleting the Windows 11 temporary folder?
Sometimes the installation of updates hangs or when you install
third-party
software under Windows 11, in this case the complete cleaning of the temporary folder can prove to be a promise of success when restarting Windows 11 and often leads to the successful installation of software or helps
Windows 11 update problems
!
5.) ... Have the temporary folder deleted on restart!
You can have the temporary folder deleted on restart by using tools like 
Delete.On.Rebot
 and using them conveniently via the Windows 11 Explorer context menu to simply delete data that are not deleted on restart!
To use 
Delete.On.Rebot
 so easily you have to add:
►►  
.. delete on restart from the MS Explorer menu!
(Image-3) Clean up the temporary folder on Windows 11 restart!