Yes, why it has not become a scheduler, you can almost answer that from the name
Desktop Calendar Tray OK

!

As mentioned many users are dissatisfied with the complex calendar programs and asked me if I can write a simple calendar, which has exactly these helpful calendar functions and is incidentally very small.

Sure you can accomplish this little helpful calendar orientation feature with other program, but what if it's all about these nice features.

Inexperienced users are happy with such a small desktop calendar tool and are not overwhelmed and it does exactly what it should and not more and not less!

You can test this Windows calendar, because no installation is necessary, you can also delete it quickly!
If possible, always use ... the new version of Desktop.Calendar.Tray.OK!



(Image-1) Eg: In how many days is New Year's Eve!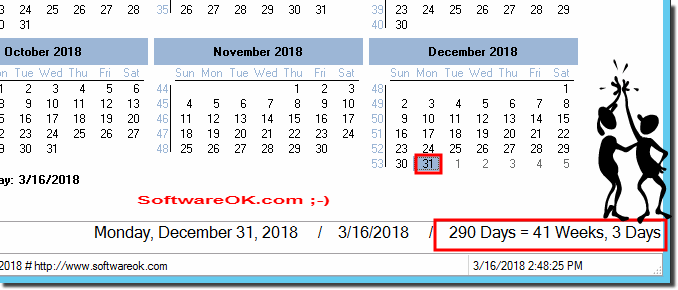 FAQ 4: Updated on: March 16th 2018 21:03