The desktop clock hardly loads the system and has been developed very system-gentle on Windows 11, 10, ... etc. 





 

Content:




1.) Desktop clock is not a system resource waster!
Here in the Windows Task Manager, you can see the low system resource consumption, especially if you can not show the second hand, this is at zero % and the memory consumption at just 3.5 MB.

In general, other desktop clocks are between 10-100 megabytes.

If you do not like the digital desktop clock you can test the following watches:


OR:






(Picture-2) The desktop clock is not a Windows system resources wasters!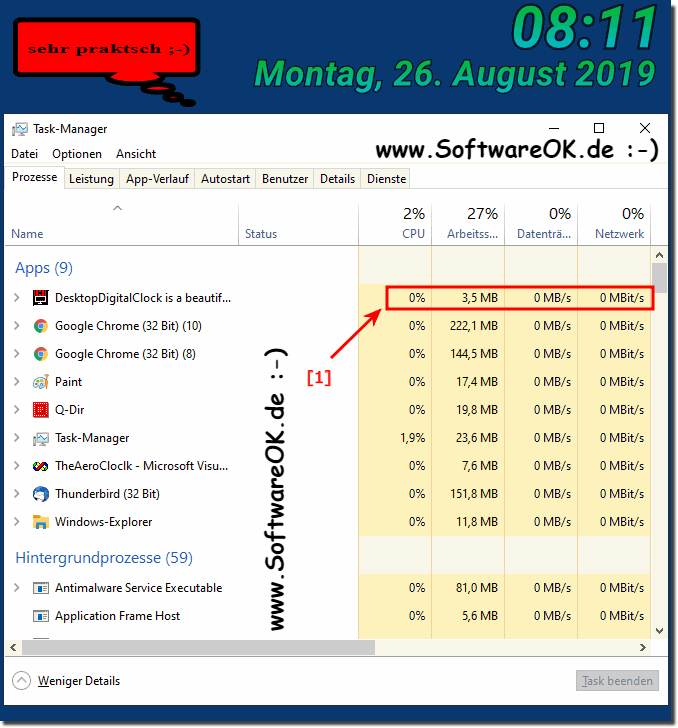 Info:
Regardless of which versions of Microsoft Windows operating systems apply to the desktop clock, the system resources used are the same, and also it does not matter whether it's a Windows desktop, tablet, Surface Pro / Go, or 
desktop clock Digital
 even on a server operating system is used. 
The desktop clock was tested on various MS systems and successfully verified.
2.) Why is it so important with the Digital Desktop Clock on Windows?

Well, it is important to me and many other users to keep the desktop clock slim as it is a simple tool to display the date and time on the desktop and does not consume too much system resources. Especially when you consider that the desktop clock under Windows is in operation all the time, careful programming is required here, other users and app developers naturally see it differently and paralyze the system with their small tools. Who knows what's going on in the background.

Here with the desktop clock appearing on the desktop in digital form, you can be assured that it is very system friendly and doesn't matter, and that it won't affect your operating system in any way, there will be no performance degradation, or no performance degradation at all.

You can also have this little digital desktop clock tell the time yourself and on your Windows desktop for a while and then let me know when it's not. I will try to fix this problem immediately if there is any. However, the desktop clock has been in use on several thousand devices for some time now and is under scrutiny from desktop clock lovers and I always get feedback when something is not working as it should.

FAQ 3: Updated on: 1 October 2022 17:56