It's an easy way to delete desktop notes on Windows 11, 10, 8.1, ... and Ms Server!




 

Content:

1.) Delete desktop notes under Windows!
 

1. Start the desktop notes program as usual

2. Go to the arrow next to the "New note" button

3. Select the "Show all" option 

4. And use the "Blitz button" to delete the note 

(... see Image-1 Point 1 to 4)



(Image-1) desktop Note the way to delete it on Windows 10, 8.1, ...!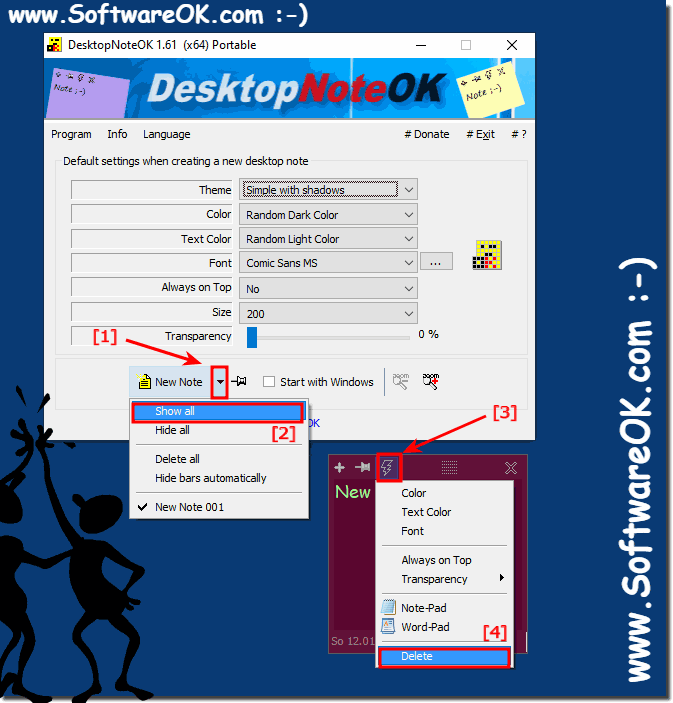 Microsoft also has improved with Windows 10 while maintaining the simplicity of making notes that came with the classic version Sticky Notes.

No wonder it's a popular way to take quick notes that you can easily erase later.

If you use sticky notes to store important information, it is imperative that you make a backup of these notes just in case.

Press Windows Key + R on your keyboard to start the Run prompt and type the following command before pressing Enter.



2.) What is better: just hiding the desktop note but completely deleting it?
Whether you should simply hide desktop notes or delete them entirely depends on your individual needs and preferences. Here are some considerations:

Hide Desktop Notes:

Pros:

Quickly Recoverable: Easily hiding desktop notes allows you to make them visible again when needed without having to recreate them.

No permanent loss: If the notes contain important information that you may need later, it is better to hide them as you will not lose them permanently.

Cons:

Clutter: Hiding lots of notes can make your desktop appear cluttered and cluttered, which can reduce efficiency.

Distraction: Even when notes are hidden, they can grab your attention and distract when you're trying to focus on other tasks.

Delete Desktop Notes:

Benefits:

Eliminates Clutter: Deleting notes ensures a tidy desktop without unnecessary items.

No distractions: Deleted notes no longer distract you, which can be helpful when you need to focus on other tasks.

Disadvantages:

Permanent loss: If you delete notes, they will be irretrievably lost. If you later determine that you need the information, you will have to create it again.

Missing Reference: Deleted notes are no longer available for reference should you need information or reminders.




Ultimately, the decision whether to hide or delete desktop notes depends on your individual work style and the specific needs of your desktop. If you usually only need notes temporarily and want to save space on your desktop, hiding them may make sense. However, if you feel bothered by the clutter and no longer need the notes, deleting them may be a better option. It may also be helpful to use a note-taking app or tool instead of desktop notes to permanently store and access important information.





FAQ 8: Updated on: 1 November 2023 22:19