Yes, you can also
expand Zip, Cab, ... folder under MS Windows 11, 10, ... etc. and print

, this function is slow and must be activated!

1. Start as always: ►► Your directory printout program for MS Windows
(Please use DirPrintOK version 5.01 for this function)

2. Activate "All Browsable (slow)"

3. And you can save your zip, Cab, ... open folder

(... see Image-1 Point 1 to 5)




PS:

This only works in tree lists; not in file filter mode! There are users who want to view or print the contents of compressed folders clearly as a file list under Microsoft's Windows. Please note that this function has not been tested in detail and works on the MS-based ZIP and can therefore be very slow with large

zip folders

! Try it out and simply tell us about your experiences with the compressed folder Printout!

(Image-1) Zip, Cab, ... Unfold the folder under Windows and print it out as a file list!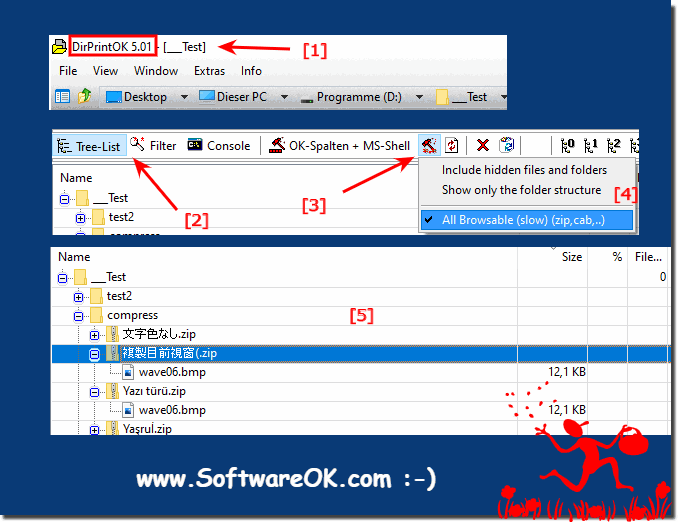 Info:

As you can see, it is quite possible to expand Zip, Cab, ... folders under Microsoft's Windows 10, ... Desktop and MS Server 2019, ... as compressed folders and print the content. As I said, this function is a bit sluggish, but after activation the compressed folder printout can be used!



FAQ 25: Updated on: 27 August 2023 12:17