It's easy to use a PC sleep timer on Windows 10 / 11 or MS Server 2019, 2016!
Info:

Everyone knows it, when watching TV in the living room, to fall asleep, everyone has probably already used the sleep timer function on the television to switch it off automatically after about an hour or two, so as to prevent it from going all night over runs. The same is now possible on Windows!


Content:
1.) Use the PC sleep timer on all Windows desktop and server OS!
1. Start the
PreventTurnOff
 tool
2. Set the countdown / timer for how long the PC should stay on
3. Activate the timer 
4. Prevent it from going into sleep mode
5. Minimize the program in the info Windows taskbar area
(Image-2) Use the PC sleep timer on Windows 10!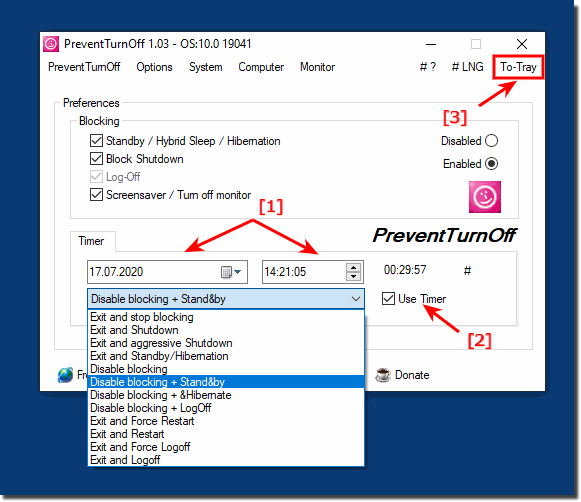 2.) Shut down the PC at a certain time without additional software!
In order to trigger the auto shutdown in Windows 10 or 11 at a certain time, this can be solved quite well using cmd.exe and using the "SCHTASKS" command in combination with "shutdown.exe" and works with all Windows and MS Server 2019, 2016, .... 
Here is the example for shutting down the PC at 11:31 p.m. You can simply copy the command and change the time accordingly.

C:\Windows>schtasks /create /TN Shut-Down-1 /SC ONCE /ST 23:31 /TR "shutdown.exe /s /f /t 0"


Deleting the task:
SCHTASKS /Delete /TN Shut-Down-1 /F
3.) What should I be aware of when using pointer controlled shutdown from Windows PC?
If the Windows 10 power options are designed to be very energy efficient, Windows may shutdown faster than desired, even if the programs that are currently working have not completed their tasks. 
This problem can be solved without having to do without the energy saving functions by using 
PreventTurnOff
 or 
Don't Sleep
 . If
you
 have not yet downloaded the Freeware 
PreventTurnOff
: 
... Download PreventTurnOff
!