The columns to be printed for the directory expression can be selected in

DirPrintOK
, similar to the system file manager MS-Explorer.
1.) Column selection via the selection menu!
Click with the right mouse button on the column header in the directory view (... see Image-1 Point 1)

Here you can directly select the columns to be printed via the menu.

If you select the columns via the menu, they will appear exactly where you right-clicked the mouse.

However, if you want to move, position, and select multiple columns, then
► the column

selection dialog 

in DirPrintOK is the right choice.




(Image-1) Select the columns for the directory print out on all MS-Windows-OS!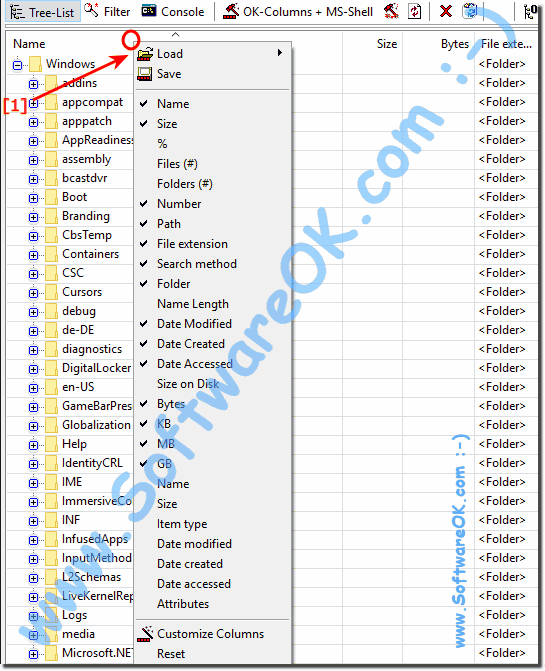 2.) Column selection via the column selection dialog!
Here you can easily find the column selection for the folder expression.

In the left list box are the columns still available and on the right the columns (file details) that are currently to be used for the folder printout.

Of course, there may be time-consuming column customization as the file details in the operating systems become more and more. In order to avoid having to reuse frequently used column settings, these can be saved, for more information: .... click here!


(Image-2) File Details Columns selection an customization!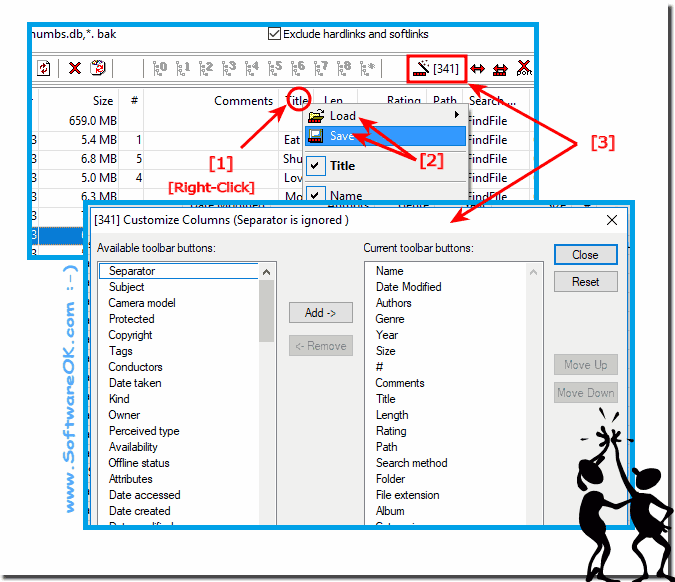 5.) The Console cmd.exe in DirPrintOK! 
In the past version (only German), the CMD was in DirPrintOK, which is why I took it with me to the new generation of the directory expression ergo printing.



Terms:

File

Lists = List

View = List Field View

Directory

Tree = Folder Structure = Directory Tree Folder Printout = Directory Printout





Info:

The column

selection dialog box

in

DirPrintOK

can be called up via the toolbar or via the menu item "Treelist" >> "Customize Columns".

You can make column settings via the Treelist or Column Header context menu: menu item "Columns" >> "Save Current".



FAQ 6: Updated on: 15 September 2019 23:10