After listing similar images, it is easy to mark a number of images in the list with checkboxes on your Windows 12, 11, 10, ... etc.!




 

Content:


1.) Mark a series of images in the file list with checkboxes!
1. As always, start the image search in Find.Same.Images.OK


2. Please check whether the option:

"<-------> Selection (arrow keys)"

is active.  

3. Mark the pictures in the list view

4. Now use the left-right arrow keys

(

... see Image-1 Point 1  to 5

)

Left arrow key

to mark the left picture / pictures with check boxes and the right for the pictures on the right 

 

PS: The first keystroke marks the second one, which de-marks the image (check box)

(Image-1) Mark a series of images in a list with checkboxes!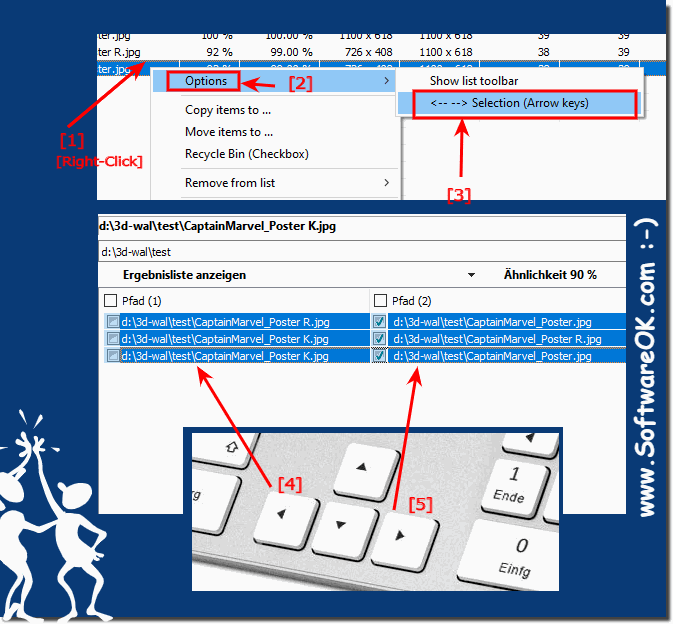 2.) Mark the advantages and disadvantages of the file list with checkboxes!
Marking images in a file list with checkboxes can have various advantages and disadvantages depending on specific needs and context. Here are some general pros and cons:

Pros:

Selective actions: Tagging images allows users to perform selective actions on a group of files, such as: B. Delete, rename or move.

Organization: Checkboxes allow users to select files for organized management. This is particularly useful when it comes to editing photos, sorting images into albums, or similar tasks.

Ease of Use: It is often more user-friendly to select images by simply checking them, especially when it comes to selecting multiple files.

Batch Operations: Tagged images allow users to perform operations on multiple files at once, saving time and effort.

Clarity: Using checkboxes can improve clarity, especially when viewing many files at once. Users can easily see which files are selected.

Cons:

Space Requirement: Displaying checkboxes next to each image can take up additional space, especially when available screen space is limited.

Click Effort: Selecting images using checkmarks typically requires more clicks compared to other selection methods such as drag and drop. This can be perceived as a disadvantage if the user interface is not optimally designed.

Ambiguity: With large amounts of images, checking boxes can become confusing and make it difficult to keep track.

Possible misclicks: Users may unintentionally select incorrect files, especially if checkboxes are too small or placed too close together.

Not always necessary: ​​In certain scenarios where users rarely work with multiple files at the same time, checkboxes can be unnecessary and disruptive.



Therefore, the use of checkboxes to select images in a file list should be well thought out and tailored to the specific needs of users and the application context.


FAQ 25: Updated on: 11 November 2023 09:46