In the free tool Find.Same.Images.OK you can select between Quality and Performance balanced and 
Performance 

balanced

 or 

Quality 

balanced.


When developing the software, I have the best experience with 

Quality and Performance balanced

setting this is also the default state.

If you want absolutely Quality please use Quality balanced but this is slower when create the Image signatures ergo Thumbnails of Images.





(Image-1) Between Quality and Performance!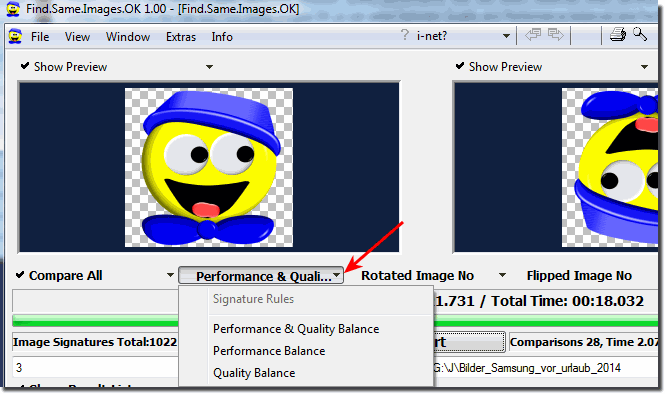 Info:
As you can see above in Windows 10 shot screenshot, you can choose between quality and performance in the image comparison itself. You can change these settings at the photo search at any time and even without hesitation on earlier versions of Microsoft's Windows operating systems or use, whether You can use similar images search on a Windows desktop PC at home, on the tablet or Surface Pro / Go on the road, or even on an MS Server operating system in the authority (police, employment office, tax office) or business computer. The image comparison was tested on various MS OS and successfully 
verified
. Use it and get in touch with the same image search benefits with this tool.
FAQ 3: Updated on: 30 August 2023 14:35