It's just about What does standby message mean at xx sec on Windows 10, 8.1, ...?
!
If you use
AutoPowerOptionsOK
 to increase the energy efficiency of your Windows PC and that the PC is in optimal energy efficiency when you are not working on the PC, you can use the "Computer in Standby" option to save some energy by putting the computer into sleep mode without being hindered by a background app, you can not always do so through the
standard Windows power options
!  
1.) Set the message before standby at xx seconds under Windows 11, 10, 8.1, ...!
1. Start  AutoPowerOptionsOK!

2. Set the time after how many seconds of inactivity the PC should be goes in standby mode

3. If you want to be warned before putting the PC in standby
just set the time!

(... see Image-1 Point 1 to 4)



(Image-1) Message Box before Windows windows goes to sleep!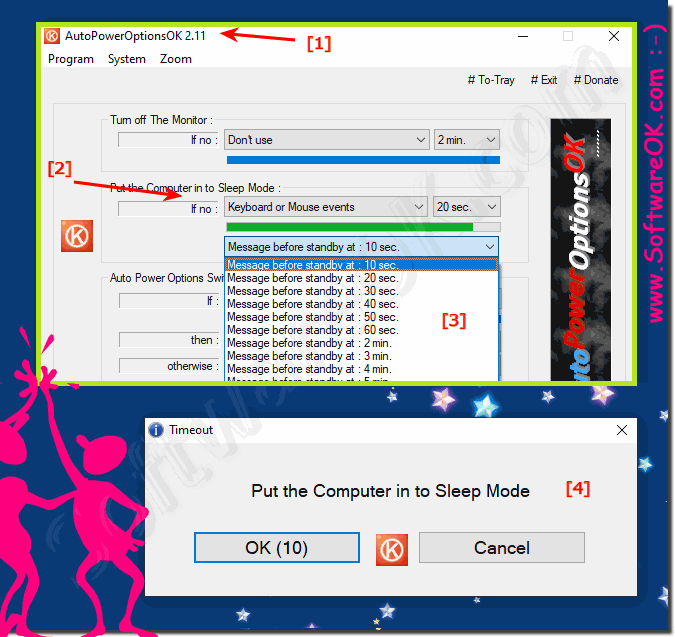 2.) The computer is reactivated the Windows 10 password is required!
Question:
I currently have a problem with apo-ok. When shutting down and activating it afterwards, I never had to enter the password for Windows 10 beforehand. but suddenly he asks when I move the mouse. and the computer is reactivated using the password of Windows 10
but when I enter "netplwiz" the hack is removed and when I uninstall apo.ok, start the computer, it logs in without entering a password, I have adjusted something
FAQ 3: Updated on: 28 August 2023 09:20