The solution: How to Open File Explorer Options in Windows 10 / 11, use File Explorer Options eg Folder Options to change files and folders function on your computer.
1.) Find
File Explorer Options

in the Control Panel! 1. Open the Windows 10 Control Panel 

2. F3 + enter "explorer"

3. Click or tap on Tablet PC the File Explorer Options

(... see Image-1 Point 1 to 4)



(Image-1) File Options in Windows 10 / 11 in Control Panel!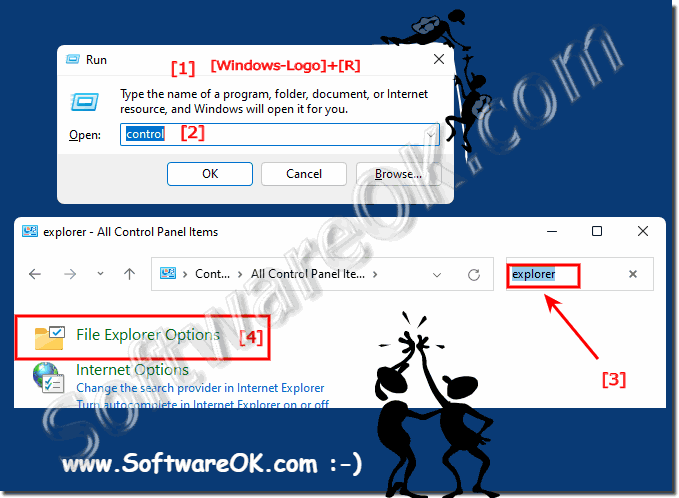 In the folder options of Windows 10 you can set how the folders are displayed in Windows 10, as well as various other customization options, such as how to open files and which folders are displayed by default. In our tip of the day, we'll show you how to open the Windows 10 folder options and what adjustments you can make.



2.) Open Folder Options in MS File Explorer!
1. Open Folder Options in File Explorer Windows + E

2. Ribbon  ► View ► Options 
3. In MS File Explorer, click or tap (Tablet-PC) on the View tab,
4 Click or tap on Options to open Folder options.
(
... see Image-2
) 
(Image-2) File Explorer Folder Options in Windows!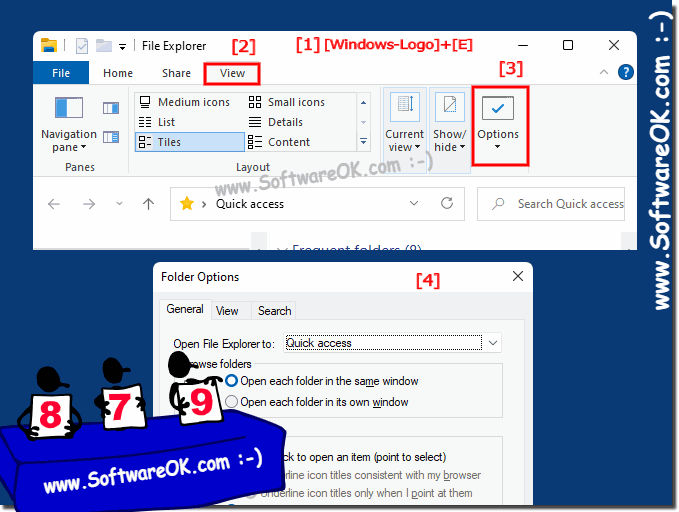 The folder options in Windows 10 give you many options for making individual settings. Our guide will show you how to access the options and what changes you can make there.


3.) Open Folder Options via Run Command!
1. Please open Run-Command in Windows 10 (Windows + R)

2. Enter the command: control /name Microsoft.FolderOptions

(... see Image-3)




(Image-3) Folder Options in Windows 10 File Explorer!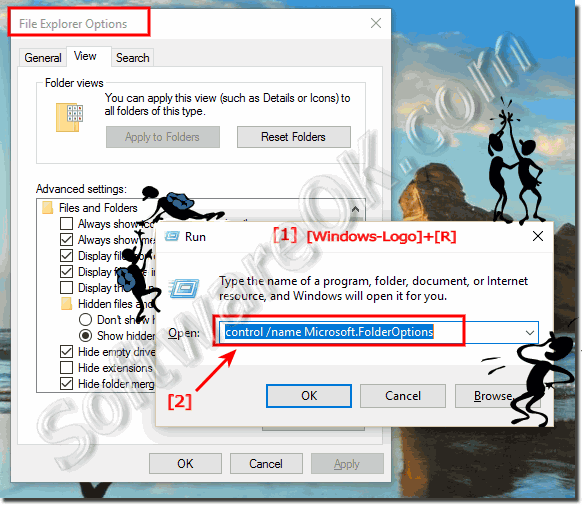 The basic principle of Windows folders has been the same for many years, but a lot has changed in detail. In Windows 10 , this is particularly clear, but in return you have numerous folder options available.



4.) Run Folder Options via Desktop shortcut!
1. Please Find File Explorer Options in the Control Panel! 

2. And do a Drag & Drop action! 

(... see Image-4)



(Image-4) Folder-Options Windows-10-Desktop-Shortcut!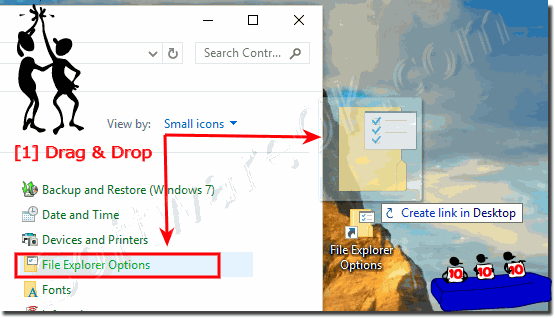 See also: ► Use own image for the desktop background in Windows 8.1 and 10!

You can change the way files and folders function and how items are displayed on your windows 10/11 PC by using Folder Options in Control Panel.

FAQ 189: Updated on: 1 May 2022 07:26