The solution to register all Fonts from a Folder without install to use the Fonts in other Windows Programs, is in FontViewOK  very easy at Version 4.07!
1.) Using Windows fonts without installation!

First, list the not installed fonts from an folder, in FontViewOK. see FAQ-1: ... view (show) the not installed fonts!

Do a right mouse button click, in context menu simply select the option "Register all without install"
(... see Image-1 Arrow 1 & 2)



If you want to register only a few specific fonts and may not all, you now simply package them in a separate folder and then open the folder and register all there.





(Image-1) Register all Fonts without install and use Font!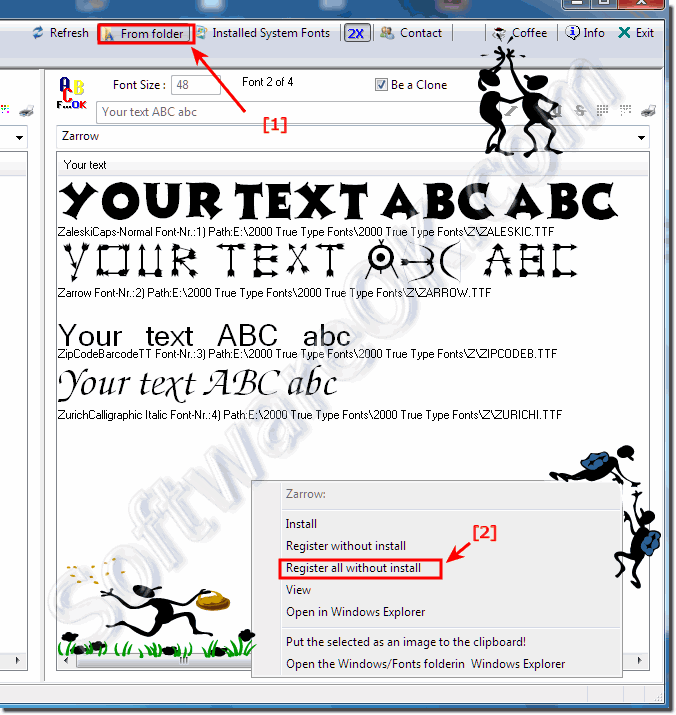 2.) Tip for missing Windows system fonts!
If you accidentally deleted one of the standard fonts or it is simply missing, which was originally in Windows, simply restart Windows Setup.

Windows Setup replaces missing or changed files.

If the Windows standard fonts are missing, it is quite possible that other Windows files are also missing.

These will also be restored.

With the new Windows 10, the fonts are usually automatically restored, especially if they are important system fonts.   

Here is an alternative solution under point 2:
►   Reset standard fonts for programs in Windows!

If you need more information about the lost files, contact Microsoft Support. But this only works with a full Windows full version. 










FAQ 4: Updated on: 29 August 2023 09:40