The most basic form of data carrier organization is called formatting!
Info:
The hard disk is prepared
by
formatting or quick formatting
, so that files can be written to the disks and quickly retrieved if required. All data on the hard disk, or the
removable disk
, SSD, HD, ... will be lost!
Example of starting a hard drive formatting under Windows 10!


1. Right click on the hard disk

2. Format

3. Start formatting

(... see Image-1 Point 1 to 5)



(Image-1) Start hard disk formatting!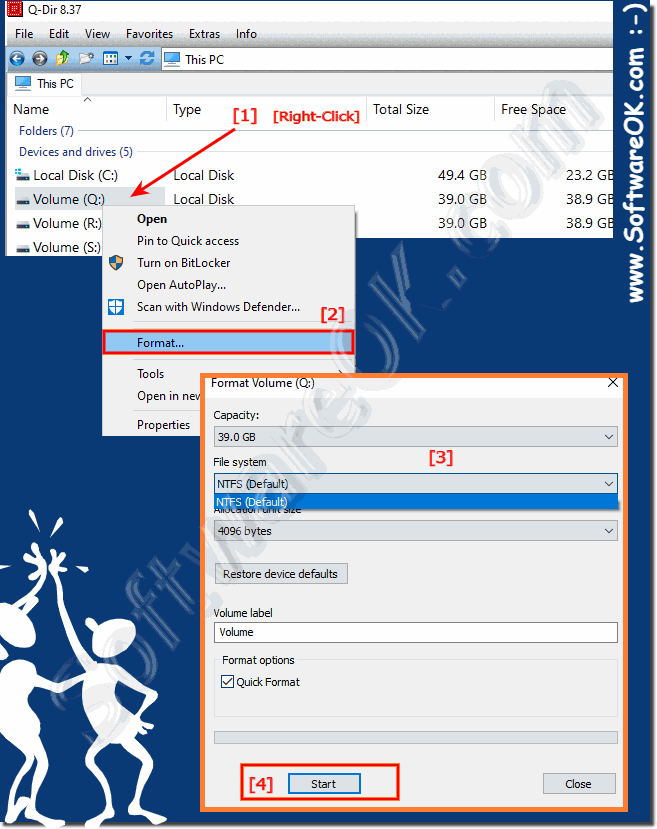 Info:
In order to format a drive, hard disk, floppy disk, flash drive, ... you must prepare the selected partition on the drive for use by an operating system by deleting all data and setting up a file system. The most popular file system to support Windows is
NTFS, but sometimes FAT32 is also
used. In Windows, partitions are usually formatted using the disk management program. You can also format a drive using the format command in a command line interface, such as Command Prompt, or with free disk partition software.

FAQ 139: Updated on: 9 July 2021 16:00