HDMI-CEC makes it possible to operate with a remote control multiple devices!


Unfortunately, it is not supported by all devices!



 

Content:


1.) Understand HDMI-CEC!
In the best case, all devices, such as LED TVs, Blu-Ray players, game console, sound systems can be connected via HDMI and then remotely controlled via CEC in common. Especially handy that you do not have to turn every single device on and off.

If everything works fine, for example: The TV has a timer function, when the TV goes out, the Blu-ray player is automatically switched- / turned- off. Which is very environmentally friendly and at the same time energy efficient.

Incidentally, the devices are not claimed meaningless, which in turn also has a positive effect on the purse.

Info: The CEC does not have anything, it's not just about the cable, it's a protocol or command line that is sent between the devices. I already had devices where HDMI-CEC stood on it, but did not support it.

It is a pity, if one sits because of the fast-forward and reverse in front of the TV with two or more remote controls :-), and sometimes mixed up ;-).

Here are some links:
.... wikipedia.org/wiki/Consumer_Electronics_Control !

In general, any HDMI cable is suitable for CEC, or 3d, 4K, or UltraHD, I have not had any that did not support it. Is more an advertising slogan to emphasize something, or to make it more expensive!

See Amazon ... hdmi-CEC I personally like ... slim hdmi Because they are not so thick and do not get so much noticed!



(Image-1) HDMI-CEC Slim!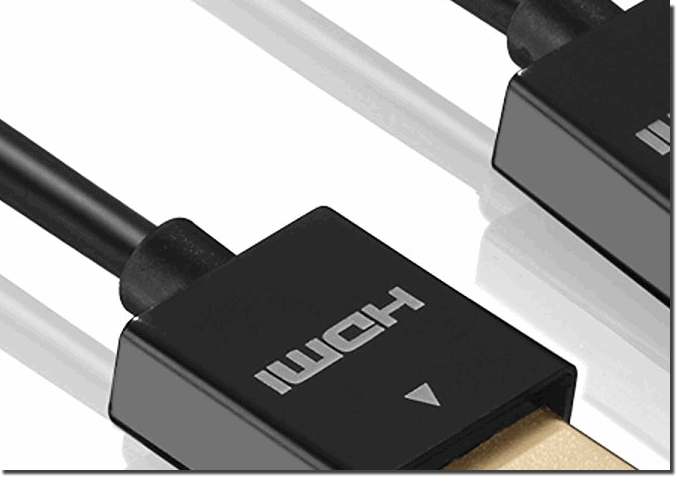 2.) HDMI-CEC Technically and understandably explained!
HDMI-CEC stands for High-Definition Multimedia Interface Consumer Electronics Control.

This feature allows you to control multiple HDMI connected devices with a single remote control.

HDMI-CEC allows communication between devices over the HDMI cable itself, eliminating the need for separate remote controls for each device.

The main features of HDMI-CEC are:

Single remote control: HDMI-CEC allows multiple devices (such as TVs, Blu-ray players and soundbars) to be controlled with a single remote control. This simplifies the user experience and reduces the number of remote controls to manage.

Power Control: HDMI-CEC allows devices to control the power status of other devices. For example, when you turn on a Blu-ray player, the TV can automatically turn on and switch to the correct input.

One-button playback: Starting playback on an HDMI-CEC-enabled device (like a Blu-ray player) can cause other connected devices (like the TV or audio system) to also start playing.

Standby Mode: HDMI-CEC can put connected devices into standby mode when not in use to save energy.

Volume Control: HDMI-CEC allows you to control the volume of compatible devices such as soundbars or AV receivers with a single remote control.




It should be noted that although HDMI-CEC is a standardized feature, it can have different names depending on the manufacturer. For example, it's called Anynet+ (Samsung), BRAVIA Sync (Sony), Simplink (LG) and more.

Although HDMI-CEC can simplify the user experience, it is not always perfectly implemented on all devices and compatibility issues can arise. Some users find it convenient, while others turn it off when they experience problems or want more manual control over their devices.







3.) Advantages and disadvantages of HDMI-CEC remote control on devices!

Advantages:

Easy to use: Using a single remote control for multiple devices makes operation more convenient and easier.

Automatic configuration: HDMI-CEC allows connected devices to be automatically configured and coordinated with each other.
For example, when you turn on a device, the TV can automatically wake up and switch to the correct input.

Energy-saving operation: Energy savings can be achieved by automatically activating and deactivating devices in standby mode.

Quick Switching: One-button operation allows users to quickly switch between different connected devices without having to use multiple remote controls.

Cons:

Incompatibility: Not all devices support HDMI-CEC or implement it in the same way.
This can lead to incompatibility issues, especially when connecting devices from different manufacturers.

Malfunctions: HDMI-CEC can sometimes cause unexpected malfunctions, such as:
B. the unintentional switching on of devices or switching to unwanted inputs.

Limited control functions: The functions controlled via HDMI-CEC may be limited.
Advanced control options that special remote controls offer may be missing.

Disablement Required: In some cases, users may prefer manual control and need to specifically disable HDMI-CEC to avoid potential issues.


In summary, HDMI-CEC can improve usability, but it doesn't always work perfectly and depends on the user's individual preferences.
Some users appreciate the convenience, while others prefer the control over their devices and disabling HDMI-CEC.
It's also important to note that the experience may vary depending on the devices used and their implementation of HDMI-CEC.


FAQ 38: Updated on: 12 November 2023 20:11