Exporting the evaluation to Excel, CSV, HTML, ... is quite easy under MS Windows 11, 10, 8.1, ... and / or MS Server 2019, 2016, ...!




Info:

After you have scanned the corresponding drive, you can easily export it under all Microsoft Windows operating systems, regardless of whether it is a desktop or MS Web Server operating system, or you need to export the file list on a mobile system such as the MS Surface Pro!






 

Content:




1.) The export of the hard disk space evaluation under MS Windows OS!
1. After you have made the hard disk space analysis

2. Just go to the main menu ► File ► Export 

3. And export it as an MS Office document or, for example, as an HTML file





(Image-1) Hard disk space evaluation Export to Excel, CSV, HTML, ...!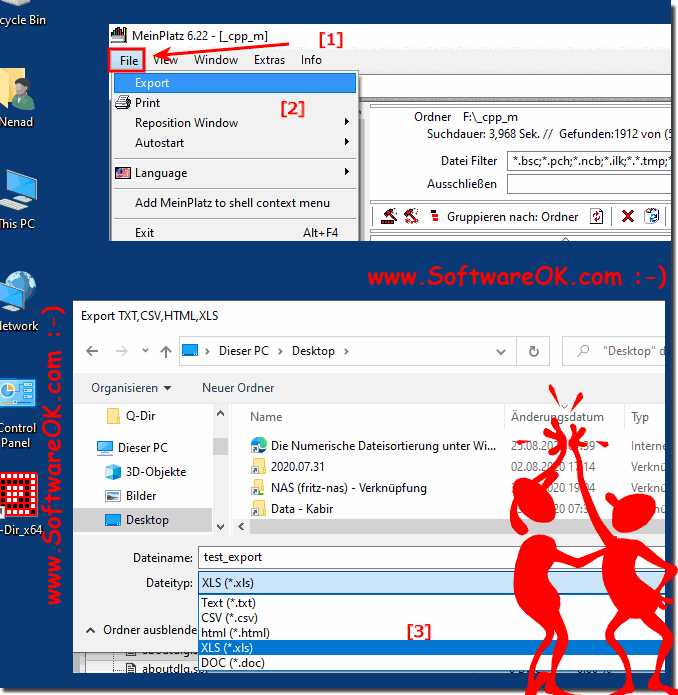 2.) Who needs an evaluation of the file lists as an export?
Evaluating the data at a later point in time is very practical and the printout can also be made on a virtual PDF printer, this is possible via the print function. However, export is very popular for evaluation, since you can send it to friends via email or cloud to have it evaluated!

Of course, it is up to you. whether they execute the execution of the file lists as export or print. If you do not want to use the file export or file print of the evaluation of the Windows disk space analysis from the hard disks, regardless of whether they are SSD or HDD S, ignore this function in this small application.


3.) What do I have to consider when exporting the file lists?
There's nothing great about the export feature other than that it can be very handy. You should always make the file export according to your own needs. Because less is often more, and so it is with exporting the file lists!

FAQ 11: Updated on: 11 October 2022 11:40