If you only change the timestamps for directories ergo folder, the solution is easy to filter only by folder and contain subfolders in NewFileTime for Windows 11, 10, ...! 



1. Please start New-File-Time 

2. click the button "Add the files via Drag&Drop" 

3. and dellect only "Include Subfolders" and "Add Folders" 

(... see Image-1 Point 1 to 3)

Add folder including subfolders and not the files for time stamp changes under Windows 11, 10, ... etc. as well as all MS Server OS!



(Image-1) Add Folders include Subfolders,but not Add files!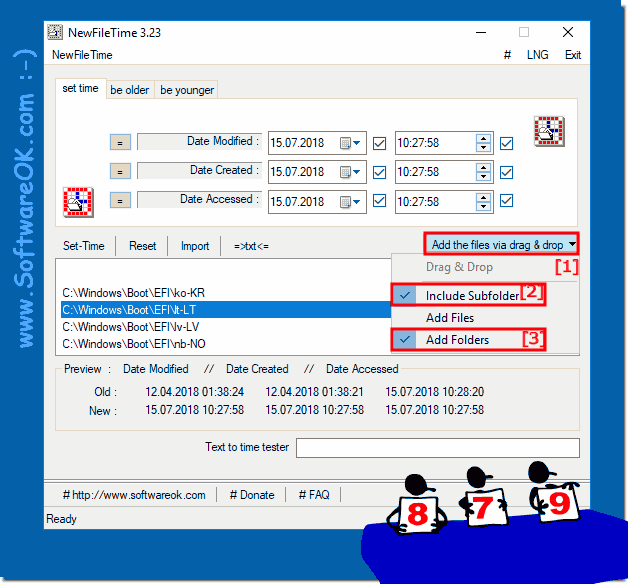 Whether you need to hide your recent activity on a computer or synchronize folder times, using New-File-Time is the best solution for Windows to set dates, times, dates to create, access, or modify to customize files or folders. 

This Change files timestamp FAQ valid for:Windows 11, 10 , 8.1, 8, 7: Pro, Home, Enterprise, Basic, Premium, Professional, Starter, Ultimate, Windows-Server 2019, 2016, 2012



FAQ 10: Updated on: 19 July 2021 10:00