Whether Word, Excel, or Powerpoint the solution is easy to automatically open an MS Office documents when you start the Windows computer!





Many users have their favorite Word Excel or PowerPoint document, which they want to open automatically when they start up their computer, and wonder if this is possible at all, under all Windows operating systems this is possible without additional software and with very little effort and expertise.



Content:

1.) Open Office documents when starting the computer!
To start Word, Excel, and so on in Windows, and to open a specific Office document when you start Windows, follow these steps:
1. In MS Explorer, locate the Office document you want to open.
Use your favorite method to search for the desired Office document.
In Windows there are several possibilities.
Select / highlight the Office document or file, press Ctrl + C. This copies the document to the clipboard.


2. Open the 
Windows Startup folder
.
To
  do
this, it is best to open 
the 
Windows Run dialog
with the keyboard shortcut [Windows-Logo] + [R] and enter
shell:startup
as command
.
And already the MS File Explorer opens the startup folder.  
3. Right-click in the Startup folder.
Windows displays a shortcut menu from which you can simply choose Insert Shortcut.
Windows creates a shortcut in the Startup folder for your document.
That's it already.
From now on, the Office document automatically opens when you start the Windows computer.
Repeat the process for all Office documents that should be automatically opened when the computer is started!


(Image-1) MS Office documents in auto-start on Windows!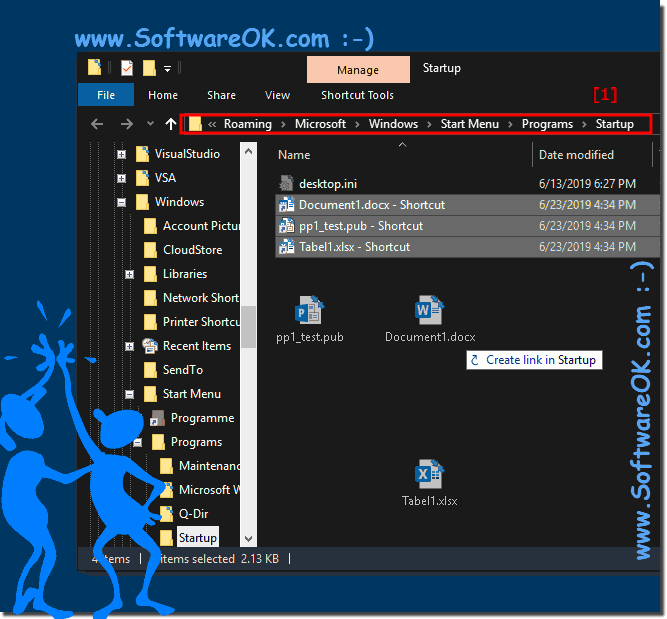 Info:
To open Microsoft Word or other Office Document not only the last used document is a Tip for Microsoft Word. With Microsoft Office you can open the last used document directly from the desktop. With this little trick that works before the program even starts, However, you can use this example to open MS Office documents when the computer starts as a solution without hesitation for earlier Microsoft's Windows operating systems
whether it's a Windows desktop, or to go to open MS Office documents when the tablet, Surface Pro / Go starts, or even on a office ms server operating system. It has been tested on all and successfully
verified
.
2.) Advantages and disadvantages if Office documents open when you start the computer!
Automatically opening Office documents when you start your computer can have both advantages and disadvantages depending on your individual needs and usage scenarios. Here are some pros and cons:

Pros:

Quick Access: If you regularly work with certain documents, Auto Open on Startup allows quick access without having to open the files manually.

Time savings: Especially in a business environment, automatically opening frequently used documents can save time by allowing users to access their work documents more quickly.

Auto-update: When you work on shared documents, automatically opened files can display the latest updates, making collaboration easier.

Ease of Use: For users who want to start working on specific documents as soon as the computer boots up, automation provides a convenient and seamless start.

Disadvantages:

Resource Consumption: Automatically opening documents at startup can consume additional system resources and slow down computer startup time.

Security risk: Automatically opened documents can pose a security risk, especially if they contain macros or scripts. Malware can exploit this feature to spread.

Privacy: When the computer is shared among multiple users, automatically opening documents can compromise privacy by allowing access to personal or confidential information.

Unintentional changes: Opening documents automatically carries the risk of making unintentional changes, especially when multiple users access the same computer.

Distraction: For some users, automatically opening documents when starting their computer can cause distraction, especially when they want to start other tasks.

Overall, the pros and cons depend on how the computer is used and what type of documents you want to open automatically. It is important to consider the safety aspects and take into account the needs of users and the working environment.





FAQ 11: Updated on: 21 November 2023 15:54