For a long time Microsoft Word only used one proprietary format for saved files: * .doc and then it became * .docx! 
The pressure of the competition, as well as the free and open source office packages / providers, pushed Microsoft to introduce an even more comprehensive open standard. This then led to the development of the DOCX file format, plus that for Excel with the
file extension
*.XLSX for spreadsheets and *.PPTX for presentations such as in Powerpoint.
Years later, DOCX became the new standard, although it is not quite as universal as the older DOC file format, which competes with ODF ...!
Microsoft has released and updated the DOC format several times for use in other programs, although the open documentation does not support all of the advanced features of Word.
The main advantage / difference!
Since Microsoft has developed DOCX as the new standard for word processing, it is likely that the DOC file extension will no longer be expanded. This is also the main advantage of the DOCX file type, that newer functions are added and some things, functions, ... are no longer possible in the DOC!
(Image-1) Proprietary file formats examples!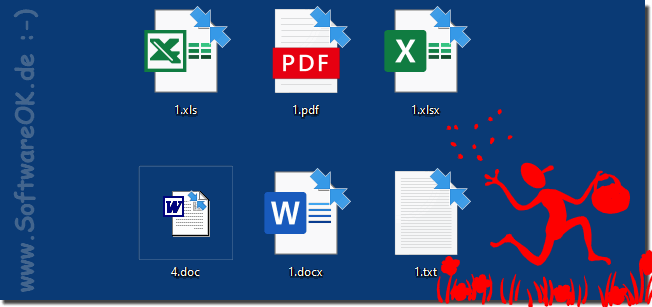 FAQ 52: Updated on: 11 May 2021 14:07