If you want to change the file time via the file name, here's an example with pictures saved on the Android smartphone or iPhone!




Foreword:

Starting with version 3.61 of

NewFileTime

, you can copy the time stamp of a video or image recording from the file name and set a new time stamp of the file time. The timestamp is visible on the files, but if you download the file to your computer's hard drive and the timestamp deviates, because the timestamp is not embedded in the capture file itself, or is simply wrong.


Content:




1.) Change file time from file name (File-Name To File Time)! 
1. Start NewFileTime and select the tab "Filename 2 Time" 
(... see Image-1 Point 1)

2. drag and drop the files onto the program or via the "Import Button".  

(... see Image-1 Point 2)

3. Mark a file to see if it has been recognized correctly and in the preview you can immediately see if the date and time format have been interpreted correctly. Only when you press "Set time" the NewFileTime will change the timestamp of all files.

(... see Image-1 Point 3 to 6)




(Image-1) File Name to File Time Stamp Example!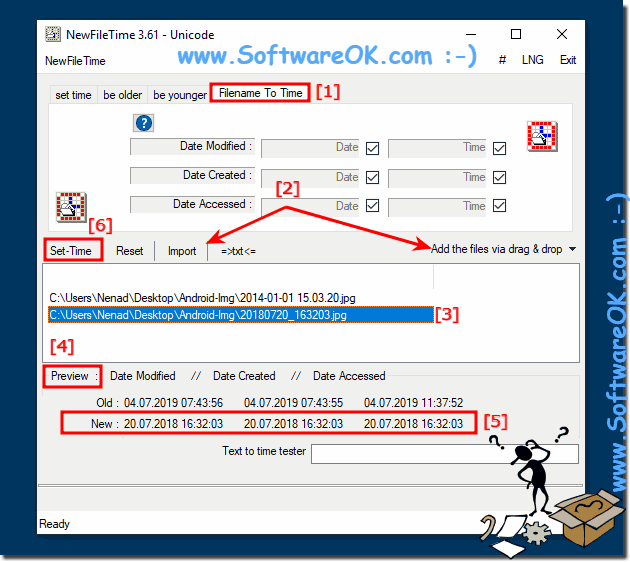 2.) Add files and change some or all file times on MS Windows 11, 10, ... OS!
You can also choose to change the modification time, creation time and access time file! And optional date and time (Clock) stamp. (... see Image-2 Point 1 and 2)






(Image-3) File Name to File Time and Date Stamp!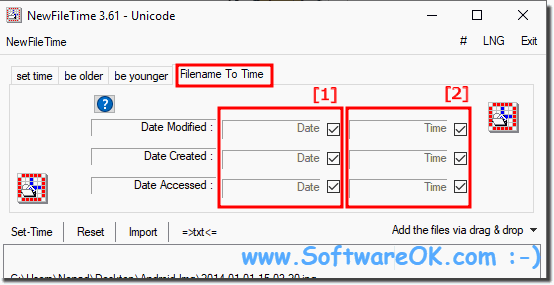 3.) What should I note when converting filename to time on Windows 11, 10, ...?

Currently it is the first simple solution, especially for Android smartphones (mobile phones) following file time formats are recognized, but I am happy to expand this: ► i am open for improvements!





(Picture-3) Convert File Name to File Time from Android Smartphone!



If you need to know the date and time of a particular video or image, there is a way to do that; the secret is the filename! It was tested at all and successfully verified. 



The Request from a NFT User:

Dear Mandam/Sir: We used the newfiletime  software and it feels great.Now we want a software like newfiletime, we want to change the creation time of the recorded video of the Android phone according to the time of the file name, but we want to be able to automatically modify the creation time of multiple videos in batches. Can this software do? How much does it cost? I want to customize one if possible.
FAQ 14: Updated on: 13 August 2021 19:53