Many users asked me if you can change the font or font size of the stopwatch for  on Windows 11, 10, ... etc.!




This adaptation of the font is possible in the

large stopwatch for Windows

from version 5.01, especially for users who use the stopwatch on Windows. They were looking for an option to select the font size and said it would be very helpful if I could enlarge the digits on the clock to fill about 95% of the screen and make the clock visible from a greater distance.


1. Start your stopwatch for Windows as always

2. Go to the Font option in the main menu

3. Now you can easily change the font on the screen as a percentage    

4. If you don't like the font of the stopwatch on Windows, just change it

(... see Image-1 Point 1 to 4)

You can now design your stopwatch even more individually and now have a really large stopwatch on hand on all Microsoft Windows operating systems, which you can read and recognize well even from a great distance. All stopwatch settings are of course saved and do not have to be adjusted every time.




(Image-1) Change the font or font size of the stopwatch on MS Windows?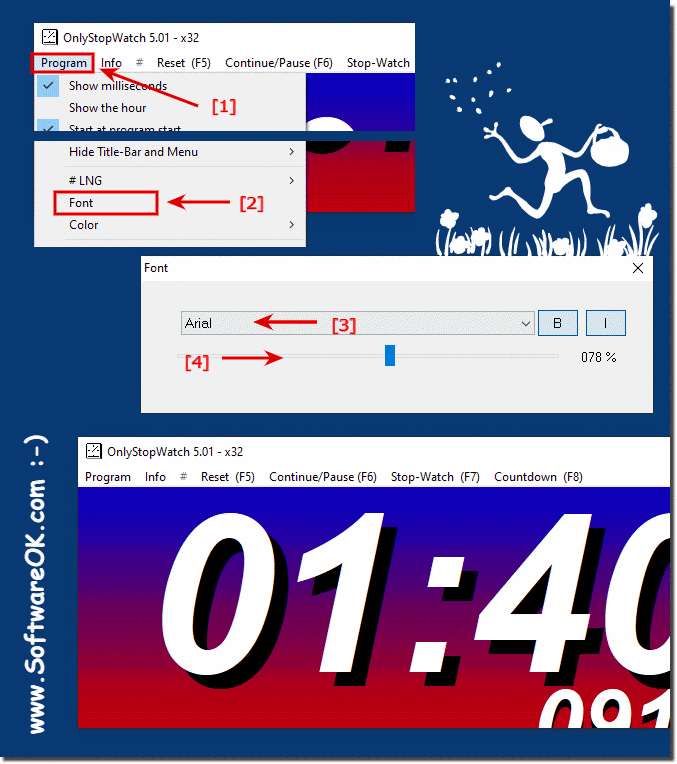 Very practical, even if you use this as a large time on the desktop, because the stopwatch can do this too. Optionally, the milliseconds and the hour are also displayed. Or start as a timer when the program starts and with the alternative stopwatch for Windows you can choose between a stopwatch function and a countdown timer at any time.



FAQ 11: Updated on: 24 July 2021 09:26